Scotland is the kind of place where you could travel around for weeks and you still would not have seen all the highlights and epic landscapes. From powerful peaks to untouched beaches, mountains with breathtaking views to mystical and lush forests, it simply makes a perfect place for your Scotland elopement.
A GUIDE FOR YOUR SCOTLAND WEDDING
SCOTLAND IS SUCH AN AMAZING PIECE OF LAND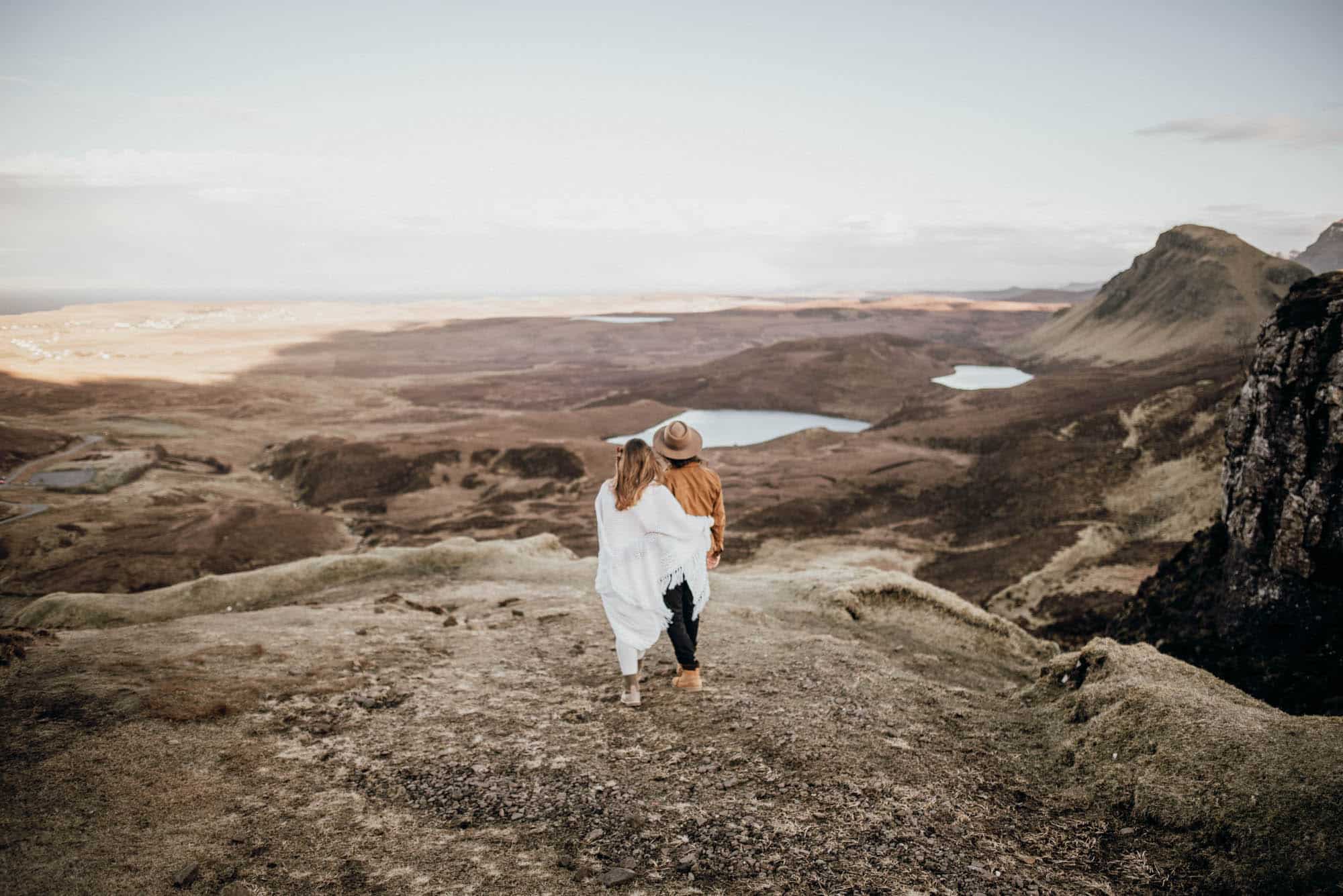 Scotland is the most magical elopement destination.
Scotlands wilderness and epic landscapes must be on your wedding destination list if you plan on doing something special and celebrate your wedding as a one-of-a-kind experience and make your day about you. Whether you're looking for adventure and intrigue or peace and tranquillity, Scotland is a place like no other. The country can be roughly divided into three areas –Lowlands, Highlands and Islands. The Lowlands are known for their fertile farmland and thick woodlands, the Highlands for their towering mountains, sweeping moorland and deep lochs, and the islands for their compact wild landscapes, beautiful beaches and far-reaching sea views.
Oh, and it's romantic, adventurous, relaxing and delicious too.
Whether you are planning to elope in Scotland or this is the first time that you are giving it a thought...
We promise that this guide will help you find some details and inspiration for your Scotland elopement. Scotland has everything you can dream of for your wedding, and even more.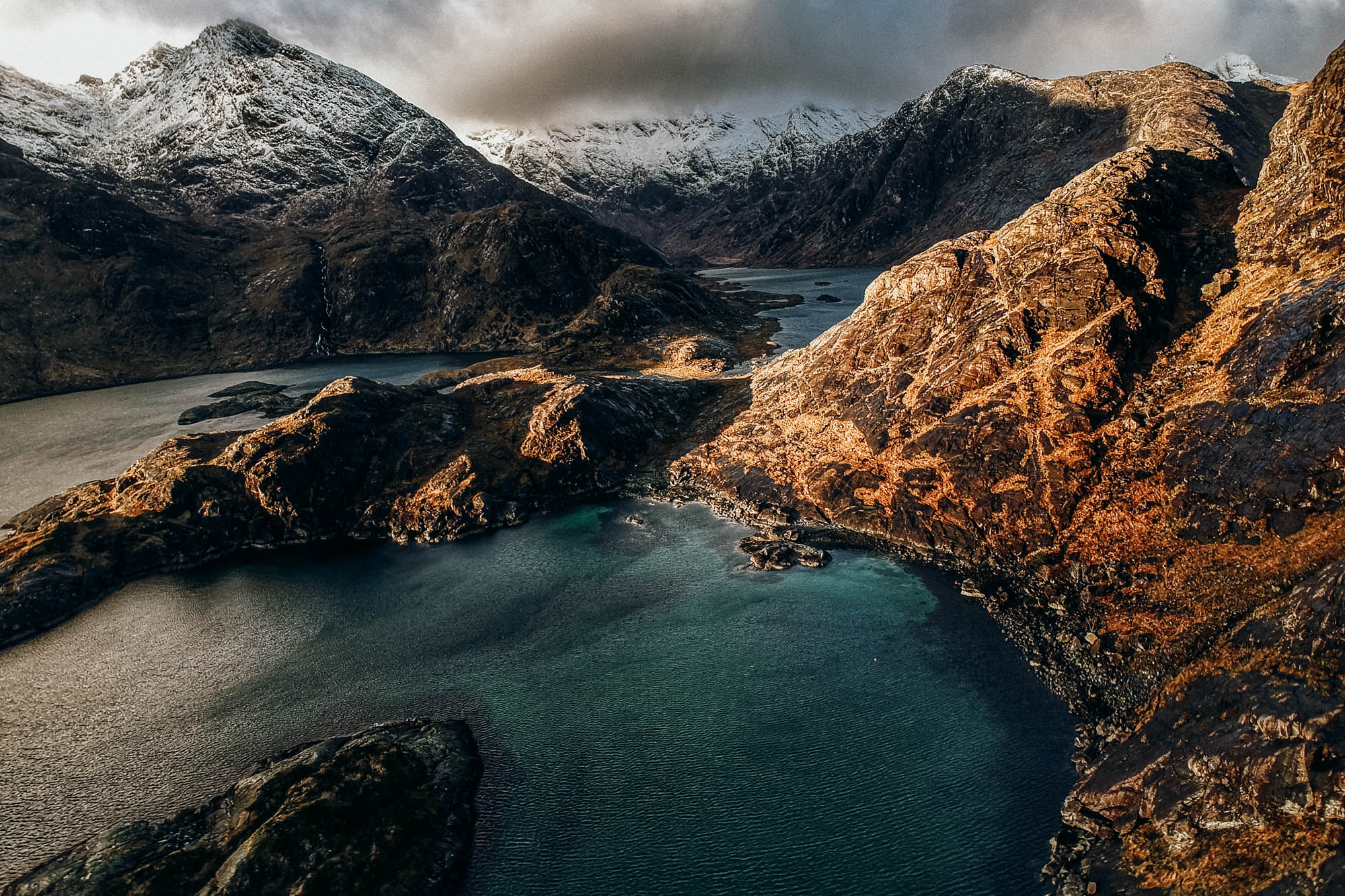 Towering mountains, glittering lochs, dense woodlands and miles upon miles of golden beaches - Scotland's landscapes really will take your breath away. And you will have a hard time choosing one spot for your Scotland elopement.
IT'S SOOOOOoo BEAUTIFUL. BELIEVE US!
Some of the best landscapes in Scotland are locations such as Loch Ness, the Three Sisters in Glencoe, Edinburgh, Ben Nevis and the Isle of Skye with The Quiring and The Old Man of Storr with have all been said to boast some of the most spectacular scenery and make just perfect spots for your elopement in Scotland.
Or are dreaming of the beautiful glens with mountains in the Highlands as backdrop for your wedding – Scotland has it all. There are also uncountable possibilities of beautiful coastal landscapes with spectacular cliffs, just to complete the list and fire up your anticipation for this country.
Whether you are looking for the rolling hills and lush farmland of the Lowlands -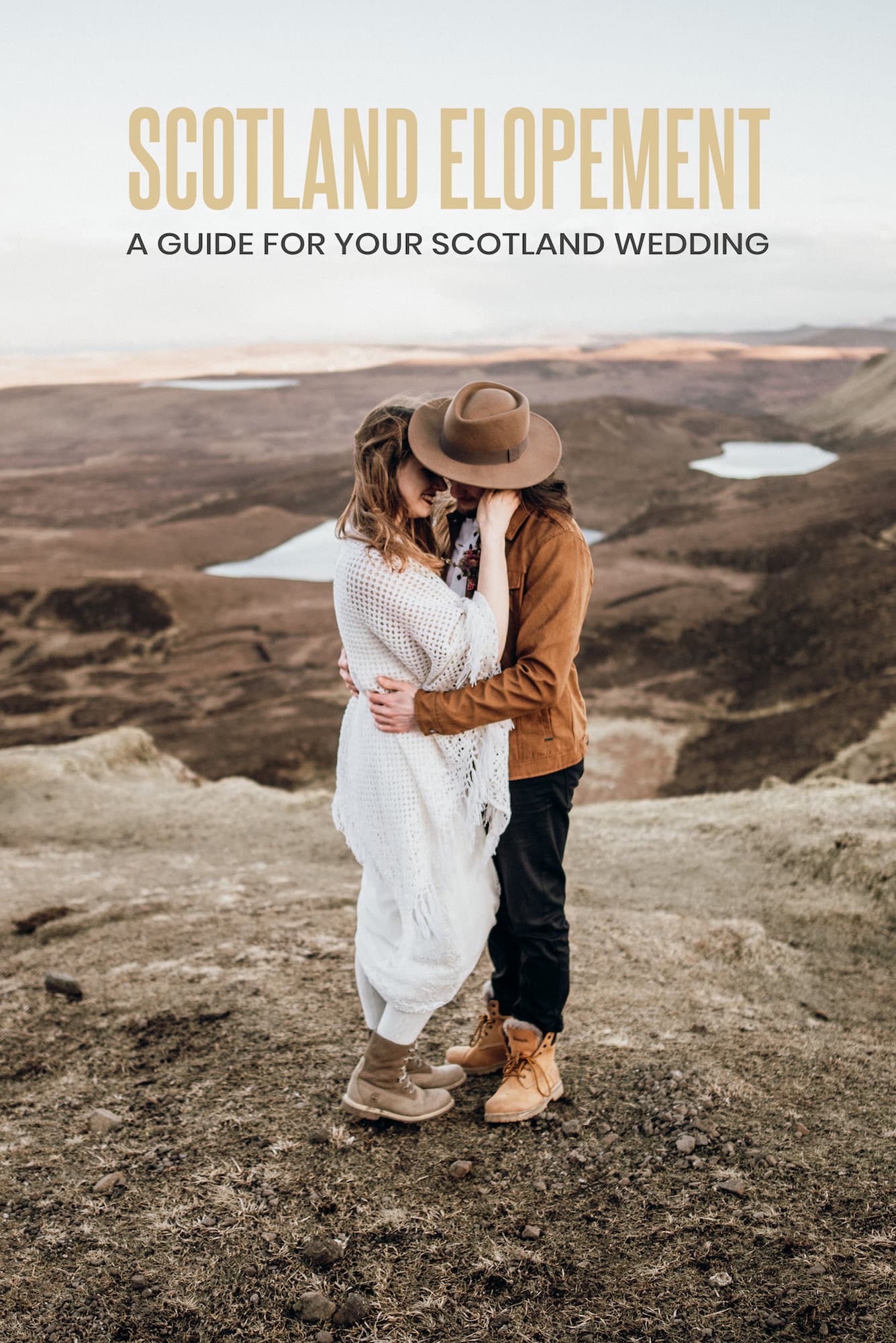 Scotland is best visited during the spring (late March to May) and autumn (September to November) months. By spring, the temperatures are warmer, although there will still be snow in the mountains of the Highlands and the Cairngorms which will look just amazing and it's also a great time to avoid big crowds and busy locations.
Autumn in Scotland will get you these glorious colors with burnt oranges and reds along with that atmospheric mists and also some snowcapped mountains.
The summer months of June through to August are the warmest but also the busiest in Scotland and the prices for accommodation are typically higher, and are harder to come by, so it's important to book well in advance. Some spots you consider for your elopement could be a bit more crowded than you may have hoped them to be during these months. From October many sites close for winter, and snowy conditions in December through to February can make travel tricky.
THE BEST PLACES TO ELOPE IN SCOTLAND
There are plenty of places for you to explore, and adventures to get involved in across the epic variety of landscapes in Scotland. Nature in Scotland is as fascinating and intricate as it gets. So, if that is something you want to include in your elopement day, Scotland is for you. There's plenty of back-to-nature experiences to be had across Scotland, so what are you waiting for? We put together this list with beautiful places and any one of these could be the backdrop to your elopement wedding ceremony.
FEELING INSPIRED? SEE OUR FAVORITES BELOW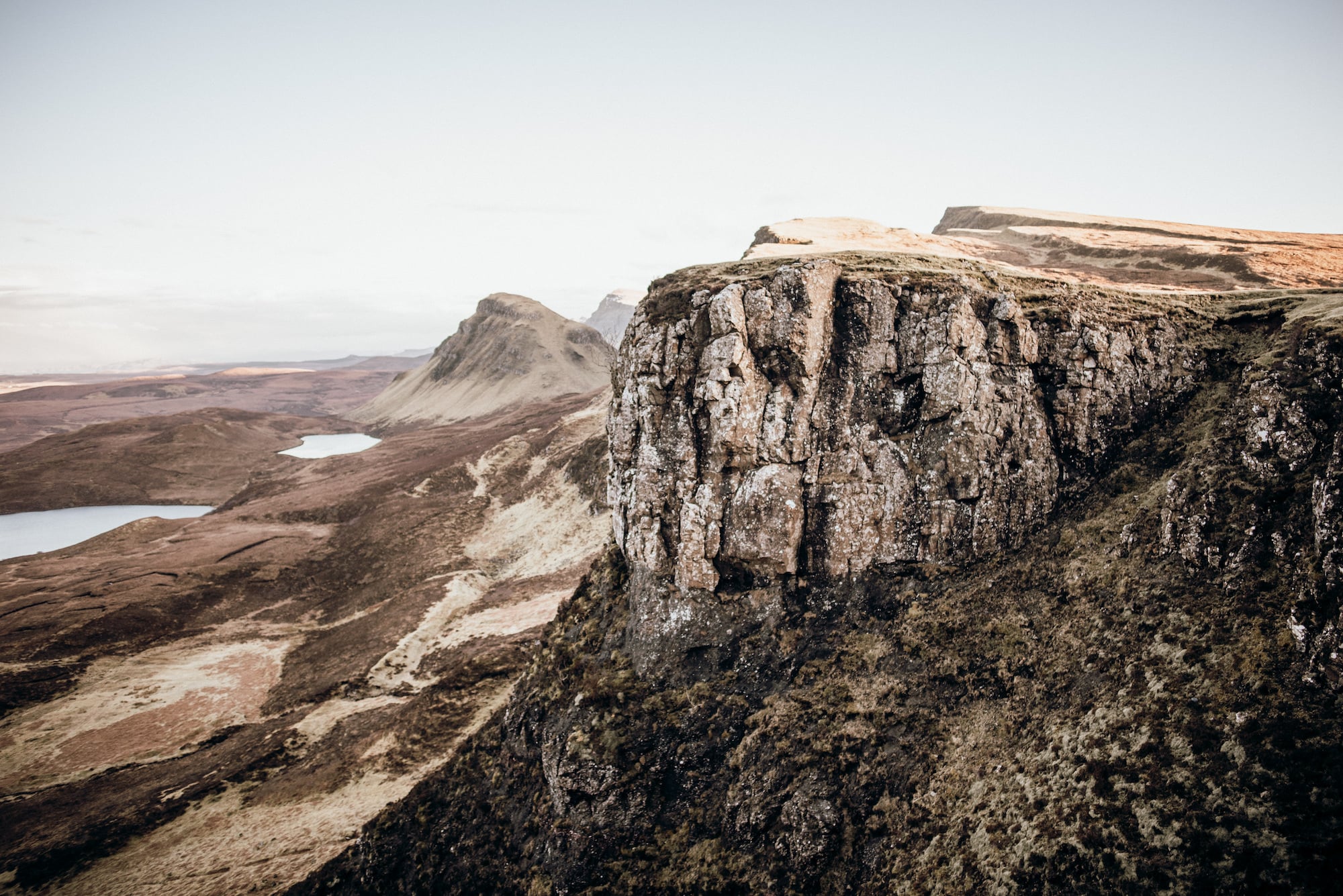 The Isle of Skye, is the second-largest of Scotland's islands but surely the most beautiful. A jumbled mess of mysterious moors, jagged mountain peaks, deep lochs, and towering sea cliffs that has drawn wedding couples in for years. You will be drawn in and never want to leave, every inch of this island will leave you speechless. Rugged cliffs, dramatic weather, sheep on the road and more than two hands full of picturesque and mind-blowing locations to escape everyday life and celebrate your love the way you want to. Make sure to put Neist Point, The Old Man Of Storr, The Fairy Glen, The Quiraing, and the Talisker Bay on your list of places to elope in Scotland.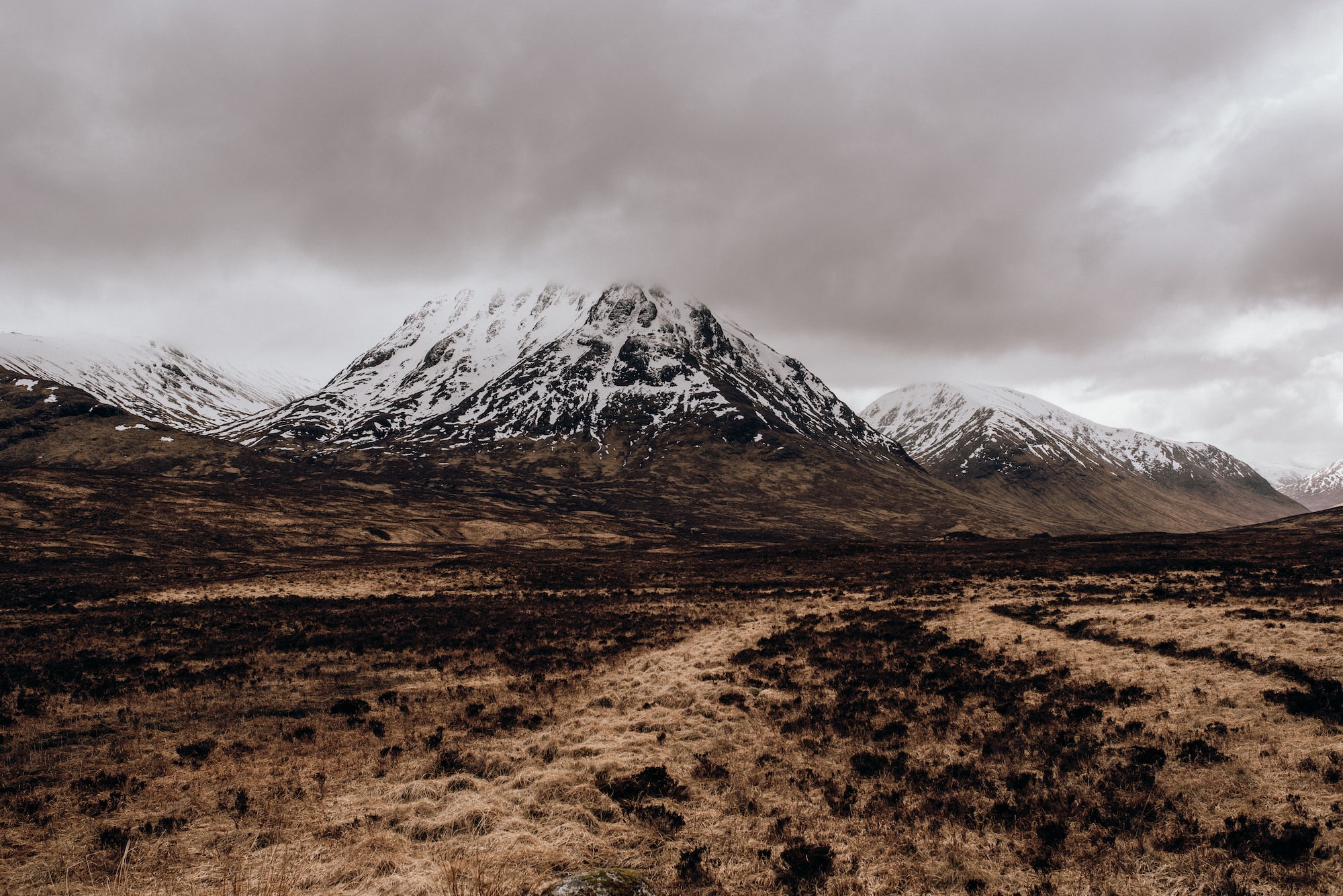 The Western Highlands of Scotland are all about the dramatic scenery. This spectacular landscape was formed by volcanoes and carved out by glaciers, creating a giant outdoor adventure playgound waiting to be explored: The Devil's Staircase, the Lost Valley, Glencoe Lochan and Buachaille Etive Beag. The colours are jaw-dropping and you won't regret visiting this place. Check these spots on Google and see if there is something that could work for your Scotland Elopement.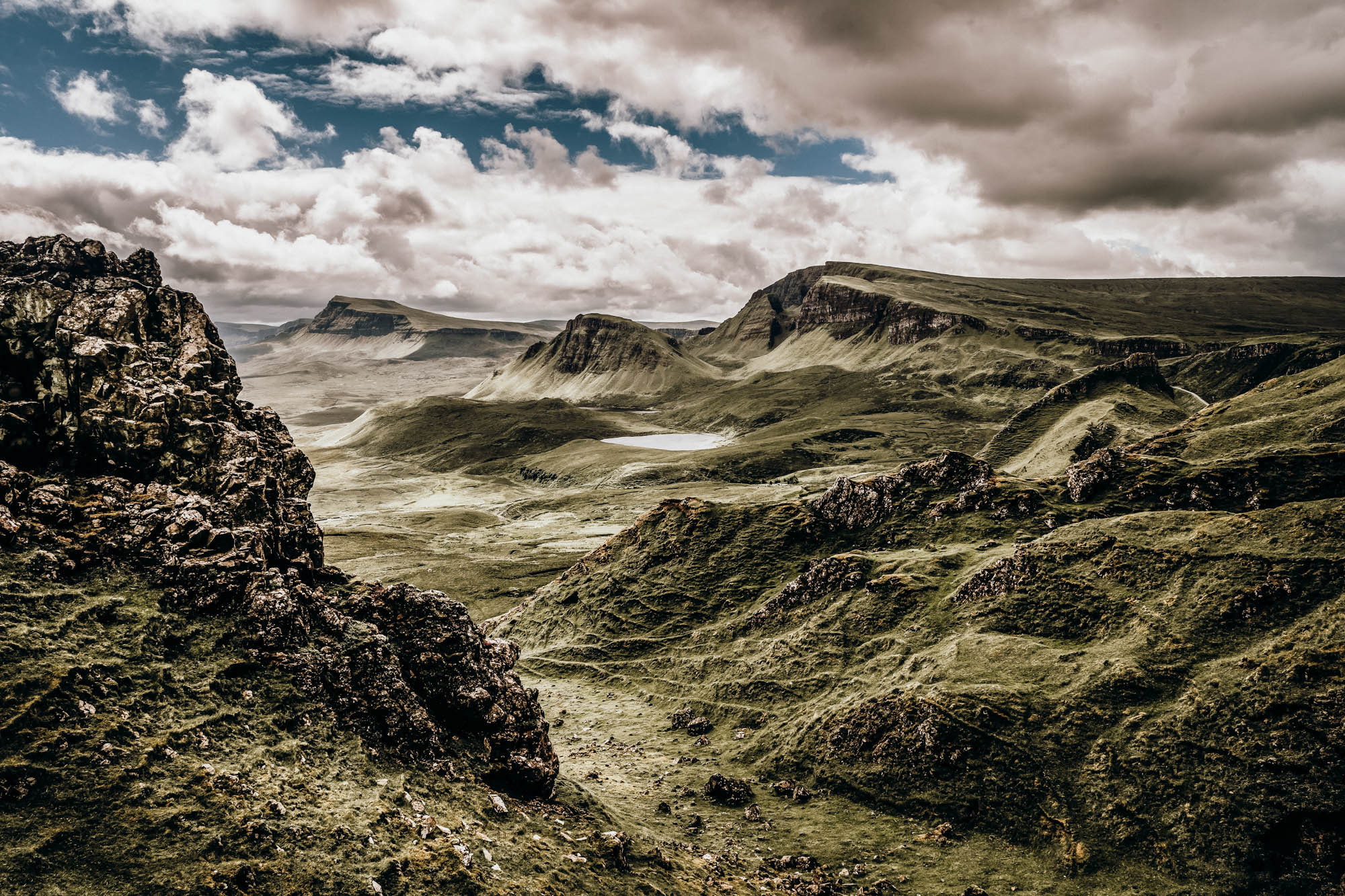 Not to brag or anything but the Cairngorms is an area home to lush forests, adorable Highland villages, fantastic wildlife, wide open spaces and of course it's very own arctic mountain plateau which is perfect if you are looking for an adventurous place to elope in Scotland. The park encompasses the spectacular Cairngorms mountain range and the surrounding hills. Cairngorms is a year-round destination but the best time to visit is in between end of February till October as the temperatures are a bit higher.
A great thing about eloping in Scotland is that you can do it literally anywhere. All you need is an officiant and a few witnesses. This means that you can choose an elopement location that's special and meaningful to you, organize the little details around it, and hey, let's get married. Here you can find all the details about your ELOPEMENT IN SCOTLAND
What about marriage
laws & legalities?
You can be married in either of two ways in Scotland - by a religious or belief ceremony or by a civil ceremony. Regardless of your choice, you need to contact your registrar/celebrant before completing your paperwork. Each of you must complete and submit a marriage notice, along with the required documents (birth certificate, Evidence of your usual residence, a valid passport). If you are living outside the UK a certificate issued by the competent authority (usually the civil authority) in your country to the effect that there is no impediment to your proposed marriage. If your documents are in a language other than English, you should also produce a certified translation. The are fixed times for the paperwork so timing is very important. The notices must be submitted early enough to enable the registrar to satisfy themself that you are free to marry one another. The exact times can be found in this document -> MARRIAGE IN SCOTLAND
There are different fees for the above mentioned documents which are about 150 £ + some local administrative fees and maybe costs for official translations. Here is a document that gives you some orientation -> MARRIAGE IN SCOTLAND – WHAT YOU WOULD PAY
Civil ceremonies can occur in any location so if you are looking for an outdoor elopement, this is perfect for you. Here is a good collection of celebrants that are experienced it this kind of events. We think this could be a good start for your research -> HUMANISM SOCIETY SCOTLAND. You'll also need two witnesses to be present at your elopement ceremony if you want to legally elope in Scotland. These witnesses have to be announced officially before your wedding. If you are planning an intimate elopement — with just the two of you — we are happy to act as your witnesses. Here is the official document that needs to be submitted -> CELEBRANT AND WITNESS DETAILS
You'll need an officiant and witness
Have questions? You're not alone. Feel free to reach out and ask us anything. We are happy to help you.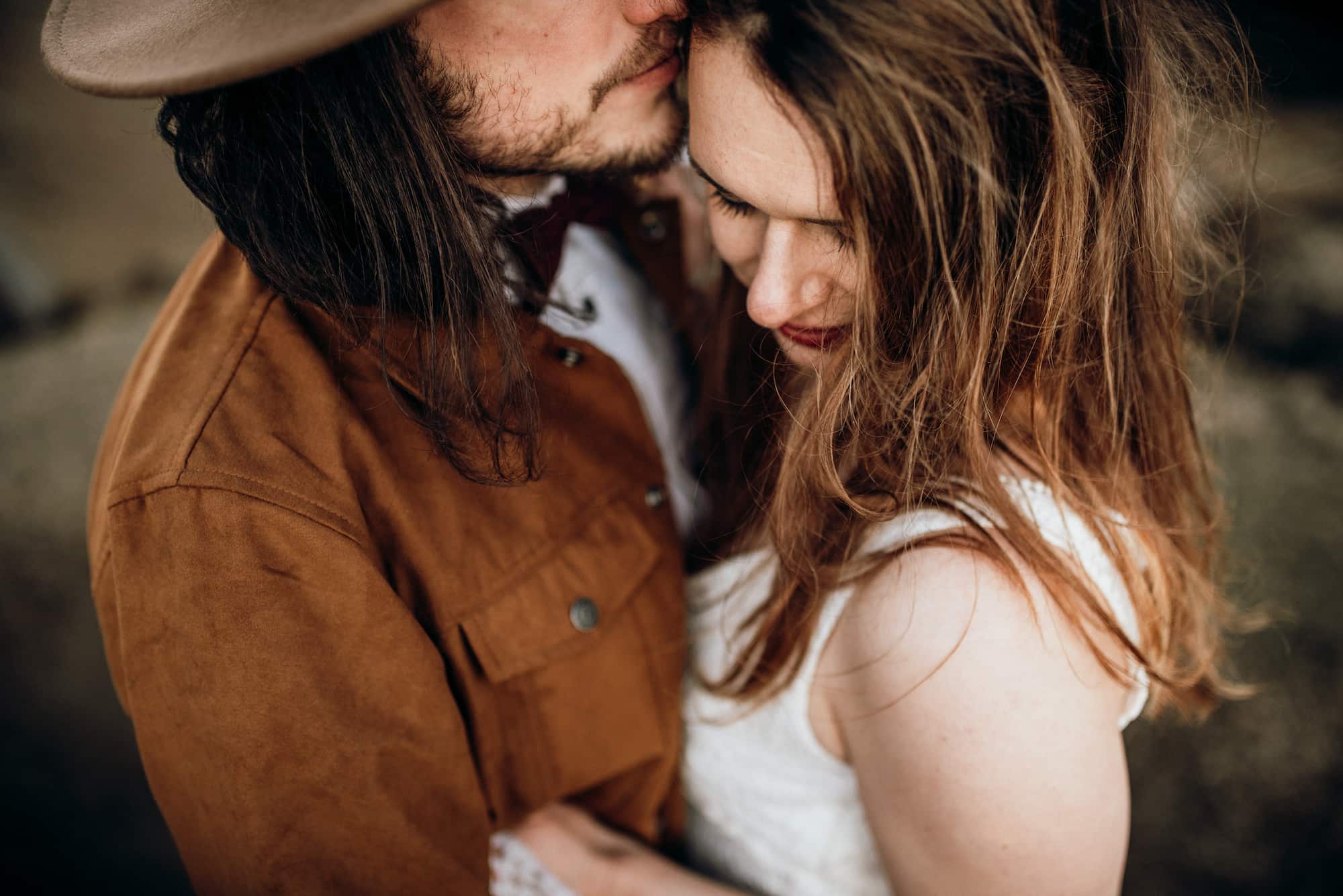 These laws and legalities only apply if you want your elopement to be your legal ceremony. This is the reason why so many couples are going more and more for symbolic weddings which gives them the freedom to get married wherever and however they want and don't think about any paperwork because, well, paperwork is really unsexy.
Why not instead have a small legal wedding at home and have a symbolic one with all the gang in beautiful Scotland?
We really hope this guide is going to help you find some inspiration of the best of Scotland, and hopefully, brings you in the mood for your Scotland Elopement.