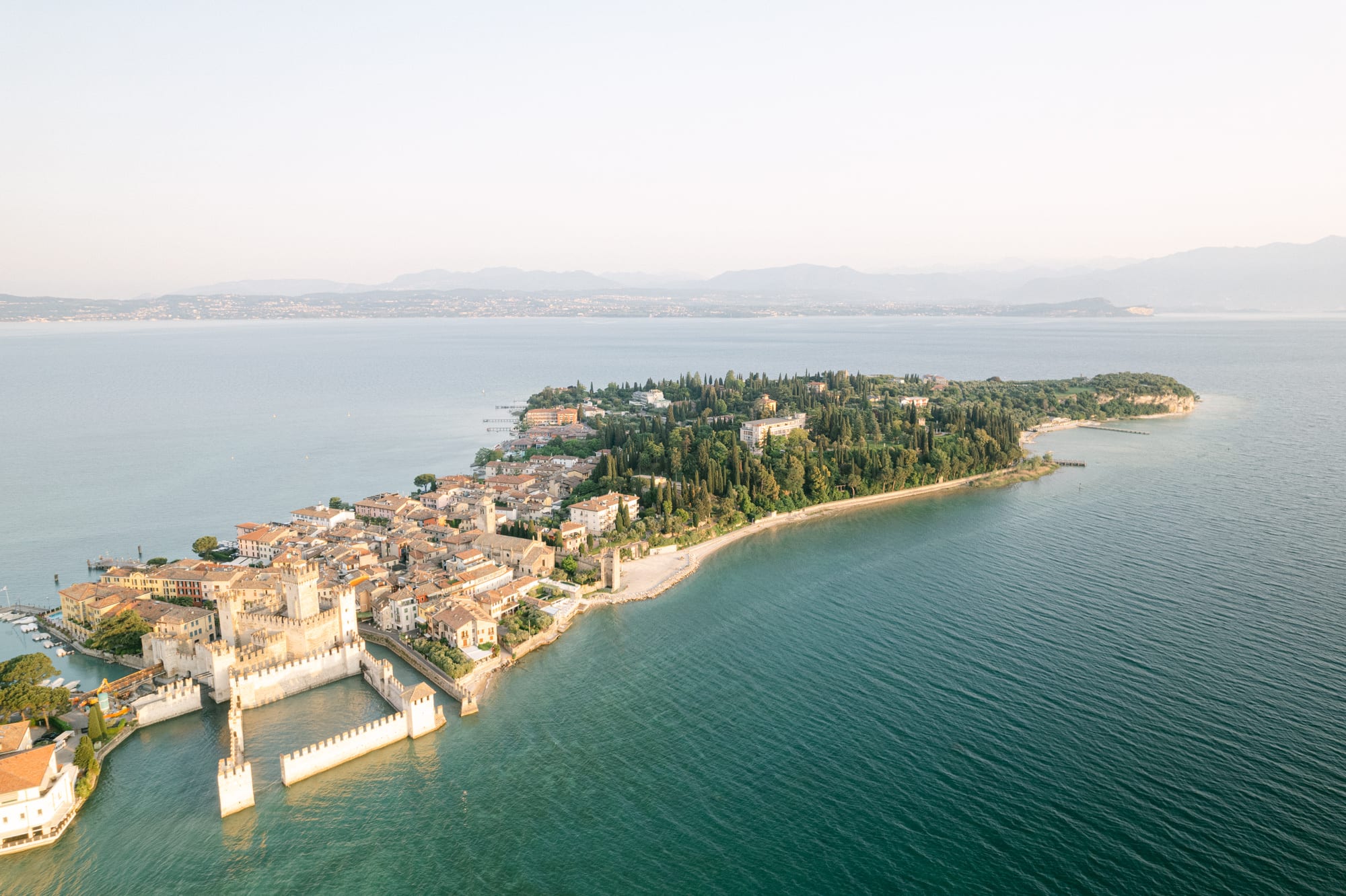 When you think of Europe's most breathtaking and unforgettable wedding venues, Lake Garda undoubtedly tops the list. Nestled in the heart of Italy, Lake Garda offers a captivating blend of natural beauty, historical allure, and unrivaled luxury - perfect for modern and sophisticated couples looking for a unique, high-class wedding experience. A Lake Garda wedding is not just a ceremony; it's a timeless memory steeped in rich European charm and elegant Italian heritage. If you are planning a wedding that speaks volumes about your sense of style and love for the unique, then a Lake Garda wedding may just be your dream come true.
Why Get Married in Lake Garda?
Choosing a wedding location is as personal as selecting your wedding dress. It must resonate with your aesthetic, align with your vision, and offer an experience that lingers long in the memories of your guests. Lake Garda offers all this and more.
Renowned for its tranquil azure waters framed by lush mountains, a Lake Garda wedding is like taking a vow in nature's own cathedral. It's a haven for romantic weddings where you can declare your love beneath the Italian sun, surrounded by panoramic views that leave your guests spellbound.
Thinking of a more intimate affair? Lake Garda elopement packages offer a fairytale-like setting for couples looking to celebrate their love in seclusion. With numerous picturesque spots dotting the lakeside, your Lake Garda elopement can be as unique as your love story. From serene lakeside vows to vibrant garden ceremonies, the possibilities are limitless.
In short, marrying at Lake Garda is more than just a location choice. It's about immersing yourself in a dreamlike ambiance, one that mirrors the beauty of your journey together as a couple. It's the perfect backdrop for starting your new chapter in grandeur and style.
Italy, with its stunning landscapes and rich cultural history, is a favorite destination for couples planning their wedding from all corners of the world. But can foreigners get married in Italy? And can you get married in Italy as a tourist? The answer is a resounding yes!
Italy has made the process of getting married remarkably straightforward for foreigners and tourists alike. With a little foresight and the right help, you can seamlessly navigate the requirements and enjoy your dream Italian wedding.
Whether you're a foreigner residing outside Italy or a tourist visiting for a short while, you can legally tie the knot in the country. You will need to provide certain documents, including birth certificates and passport copies, and complete a declaration of intent to marry at the local town hall.
Is it easy to get married in Italy? While the process involves paperwork and legal formalities, it's quite manageable. Hiring a wedding planner can make things even smoother. They can guide you through the legal procedures, help you choose the best vendors, and ensure that everything goes according to plan on your big day.
In essence, an Italian wedding is not just feasible; it's an unforgettable experience well worth the process. The country's welcoming nature and stunning locales like Lake Garda make it a top choice for international weddings.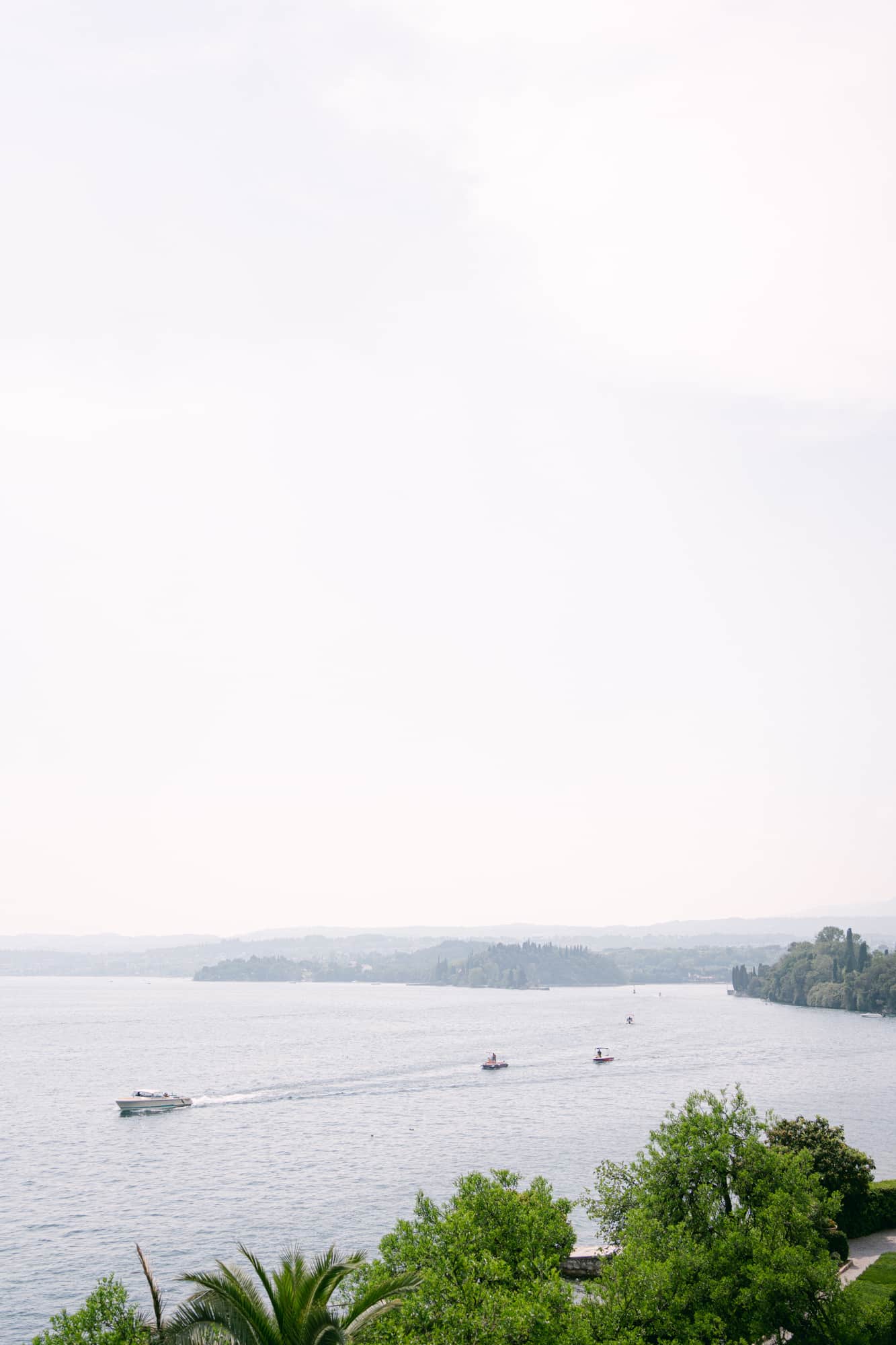 Lake Garda Wedding Venues
One of the most enticing aspects of a Lake Garda wedding is the wealth of stunning venues available. From enchanting villas to historic castles, there's a Lake Garda wedding venue to fit every couple's dream.
Consider the historic Malcesine Castle Lake Garda. Perched high on a hill overlooking the lake, this majestic castle offers awe-inspiring views and a distinct sense of romantic nostalgia. Imagine saying your vows in the castle's courtyard, with the azure waters of Lake Garda as your backdrop. It's an experience straight out of a fairy tale.
If a lavish villa is more your style, you're in luck. Lake Garda is home to numerous grand villas that are perfect for your wedding day. A Lake Garda wedding villa combines luxury, comfort, and timeless elegance. Imagine walking down an aisle lined with Italian cypress trees, the villa's ornate architecture looming grandly behind you.
Sirmione, a beautiful town on the southern banks of Lake Garda, also offers a range of wedding venues, including luxury hotels, charming restaurants, and lush gardens. Sirmione wedding venues offer you the unique opportunity to marry with stunning lake views and historical architecture, creating a truly unforgettable setting for your big day.
No matter what kind of venue you envision for your wedding, Lake Garda has something to suit your needs. Each venue offers its own unique charm and elegance, making your wedding day a truly special experience that you and your guests will remember for a lifetime.
Planning Your Wedding in Lake Garda
Planning a wedding can be a daunting task, particularly when it's an international affair. Luckily, Lake Garda wedding planners are available to guide you through each step of the process. With their comprehensive knowledge of local customs, venues, and vendors, they can help you realize your dream wedding without the stress.
Typically, weddings in Italy start late in the afternoon, often around 4 or 5 pm. This tradition allows for a cooling break from the afternoon sun and the perfect timing to enjoy the spectacular Italian sunsets during your reception.
As for the best time of year to get married in Italy, it largely depends on your personal preferences. Spring (April to June) and Fall (September and October) are often seen as the best times for a wedding in Lake Garda, offering mild weather and beautiful natural backdrops. Summers can be hot but are still popular due to the vibrant outdoor life and the possibility of al fresco dining late into the evening.
So, where do you start planning a wedding in Italy? Begin by deciding your wedding date and budget, then research venues and wedding planners. Booking your venue early is crucial, especially in sought-after locations like Lake Garda. Then, work with your wedding planner to iron out the details, from legal requirements to color schemes, from the menu to the music.
Remember, planning your wedding should be as enjoyable as the wedding itself. With the right support and a clear vision, your Lake Garda wedding will be an event to remember.
Lake Garda Wedding Packages
Opting for a wedding package can often simplify your planning process and help you keep track of costs. Lake Garda wedding packages vary in terms of what they offer and their prices, but they generally include key elements such as venue hire, catering, and coordination services.
Packages can cater to grand affairs as well as small, intimate ceremonies - the Lake Garda small wedding experience is as meticulously curated and unforgettable as larger celebrations. While it's hard to provide an exact figure without knowing specific requirements, you can expect a wide range of options to suit varying budgets. Discussing your needs with a wedding planner can help you understand the potential costs better.
Special Mention: Isola Del Garda Wedding
Finally, a special mention must be made of Isola Del Garda. This island in the lake is home to an exquisite neo-Gothic villa and lush gardens - an epitome of timeless elegance. An Isola Del Garda wedding offers a unique, nearly surreal ambiance. Imagine exchanging vows with the sun setting over the expansive Lake Garda, casting a golden hue over your ceremony.
Whether you choose a villa on the shores, a castle overlooking the lake, or the splendid isolation of Isola Del Garda, a Lake Garda wedding ensures a breathtakingly beautiful start to your married life.
Conclusion: The Charm of Lake Garda Weddings
As we've explored, getting married in Lake Garda is an experience that stands in a class of its own. The region offers an enchanting blend of natural beauty, historical charm, and world-class amenities, creating an ideal setting for your special day. Weddings at Lake Garda are not just about the ceremony; they're about creating a unique experience that reflects the beauty of your love story and leaves your guests with unforgettable memories.
From breathtaking wedding venues to efficient wedding planners, from small intimate ceremonies to grand festivities, Lake Garda caters to every desire. As you begin this new chapter of your life, there's no place better than Lake Garda to symbolize the timeless beauty and enduring promise of your love.
Getting married in Lake Garda is not just a wedding. It's a celebration of love in one of the most beautiful settings in the world. It's a day of joy, love, and commitment, made even more special by the magic of Lake Garda.
Plan your Lake Garda wedding and immerse yourself in an experience as unique and unforgettable as your love story.