Introduction
From the charming, cobblestone streets of Lisbon to the sun-soaked, golden beaches of the Algarve, Portugal has become a dream come true for couples seeking the perfect destination wedding. In recent years, the allure of destination weddings has grown exponentially, with couples from all corners of the globe setting their sights on tying the knot in locales far from home. Portugal, with its captivating blend of history, culture, breathtaking landscapes, and exquisite cuisine, has emerged as one of the premier destinations for these unforgettable celebrations.
In particular, Portugal wedding venues offer a diverse array of settings for every couple's unique vision of their big day. Whether it's a centuries-old vineyard in Douro Valley, a cliffside villa overlooking the Atlantic Ocean, or a historic palace nestled among Sintra's forested hills, Portugal provides a stunning backdrop for the exchange of vows. More than mere locations, these venues embody the spirit and charm of Portugal, turning every wedding into a fairytale story etched in time.
Simultaneously, Portugal's wedding destinations encompass more than just the venues. The term encompasses the entire experience – the rich tapestry of activities, sightseeing, dining, and lodging options that make the journey to Portugal a captivating adventure for the wedding couple and their guests alike. From the vibrant nightlife of Lisbon to the serene beaches of the Algarve, from the historical treasures of Porto to the mystical allure of Sintra, each destination in Portugal offers its unique charm and attractions.
In the forthcoming sections, we delve deeper into the myriad reasons why Portugal is quickly becoming the top choice for sophisticated, modern couples planning their destination weddings, and we explore the diverse array of wedding venues that this enchanting country has to offer.
When it comes to deciding where to get married, more and more couples are answering with a resounding "Yes!" to Portugal. There are several reasons why Portugal has emerged as a popular choice for destination weddings. Let's unravel the charm of this coastal gem and understand why it could be the perfect backdrop for your big day.
One of the main reasons is the diverse selection of the best wedding venues in Portugal. Whether you're dreaming of a boho-chic wedding on a sandy beach, a sophisticated affair in a grand manor house, or an intimate ceremony in a quaint village chapel, Portugal has it all. The beauty of Portugal's wedding venues is more than skin-deep, though. It's also about the warm hospitality, the mouthwatering Portuguese cuisine, and the intoxicating music that accompanies every event.
In addition to this, Portugal offers an exceptional array of affordable wedding venues. Here, affordability doesn't imply compromising on quality or settling for less. Rather, it means having access to incredible venues and top-notch services that deliver excellent value for money. Portugal's affordability extends beyond the wedding venues to other wedding-related costs, such as catering, décor, and entertainment. The country's cost-effectiveness makes it an attractive option for couples who want their budget to stretch further without skimping on the details that make a wedding truly special.
But Portugal isn't just a great place to get married because of its venues. The country's weather also plays a crucial role. Known for its mild, Mediterranean climate, Portugal boasts warm, sunny summers and gentle, rainy winters. This means that no matter when you decide to tie the knot, you'll likely be greeted with pleasant weather conditions that are perfect for a wedding.
Finally, Portugal is steeped in rich history and culture. From the centuries-old traditions to the stunning architecture, every corner of this country tells a story. Getting married in Portugal offers you the opportunity to not just celebrate your love, but to do so in a place that's as timeless and romantic as the love story you're writing together.
To sum up, is Portugal a good place to get married? Yes, it definitely is. From the best venues to cost-effectiveness, favorable weather, and rich history, Portugal ticks all the boxes for an unforgettable destination wedding.
Best Times to Have a Wedding in Portugal
When it comes to tying the knot in Portugal, timing is a significant factor to consider. Portugal's typically Mediterranean climate offers warm, dry summers and mild, rainy winters, which allows for a wide window of ideal times to hold a wedding.
The most popular season for weddings in Portugal is undoubtedly summer, particularly the months from June to September. The country basks in glorious sunshine, making it perfect for outdoor weddings in vineyards, beachfront, or gardens. Especially in July and August, the weather is consistently warm and dry, but these are also the busiest months for tourism. The "best" month for a wedding in Portugal could indeed be during the summer if you're after sunny, long days and vibrant, lively nights.
However, "best" can mean different things to different people. If you're looking to avoid crowds, consider spring (April to June) or autumn (September to October). These periods offer beautiful weather — with milder temperatures and less tourist traffic. Spring presents the added bonus of beautiful blooms decorating the landscape, while autumn brings a striking palette of colors as the leaves change.
As for the most expensive month to get married in Portugal, it's typically August. This coincides with the peak tourism season when demand for venues and services is at its highest. Plus, locals also favor this month for weddings, which can drive prices up further. If budget is a concern, you might consider the shoulder seasons (spring or autumn), when prices can be more reasonable, and venues may be more available.
Regardless of the time of year you choose, Portugal's diversity in landscapes and venues guarantees a beautiful setting for your wedding day. Just remember to book well in advance, especially for summer weddings, as the best wedding venues in Portugal can get booked up quickly in these popular months.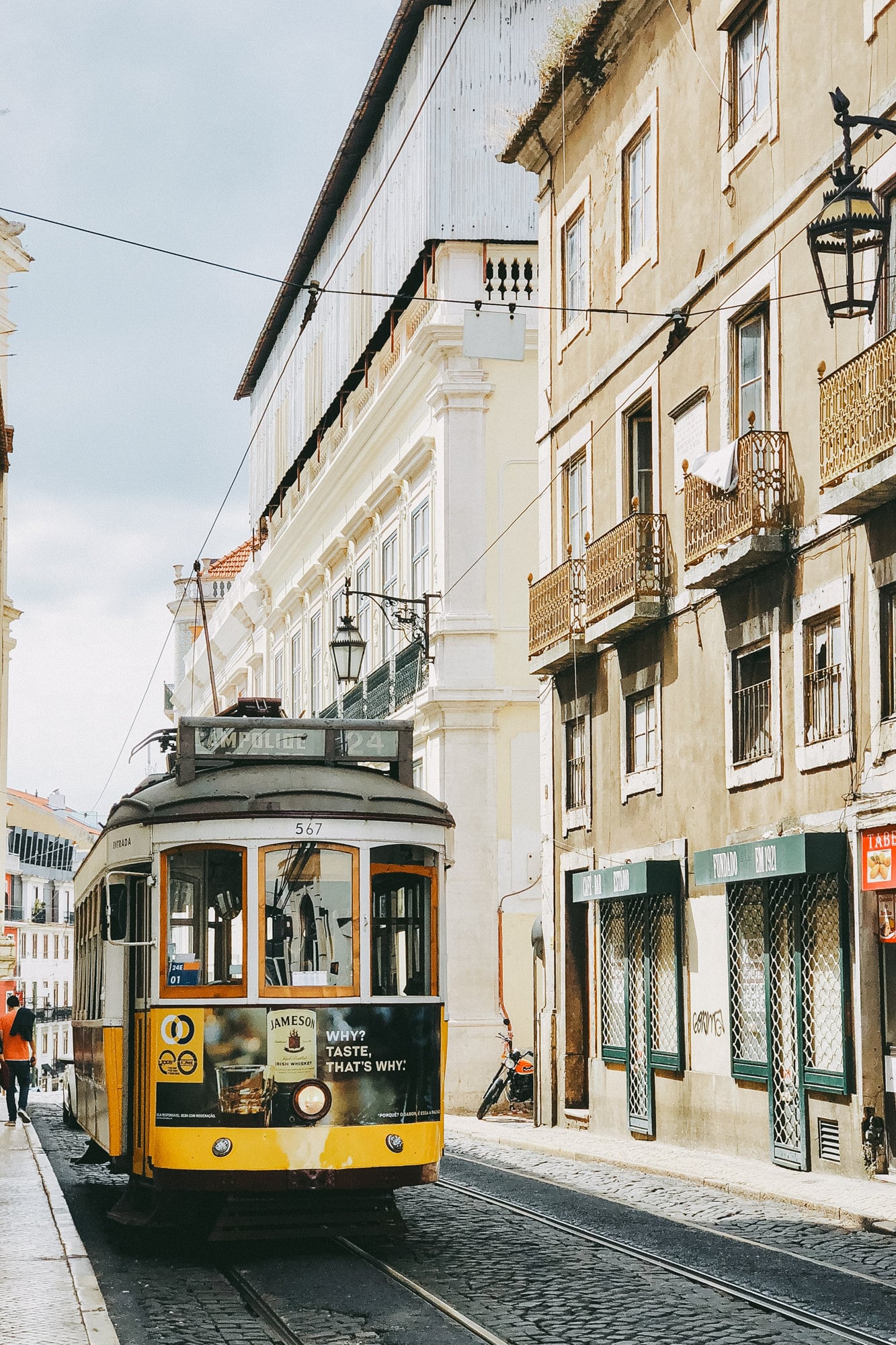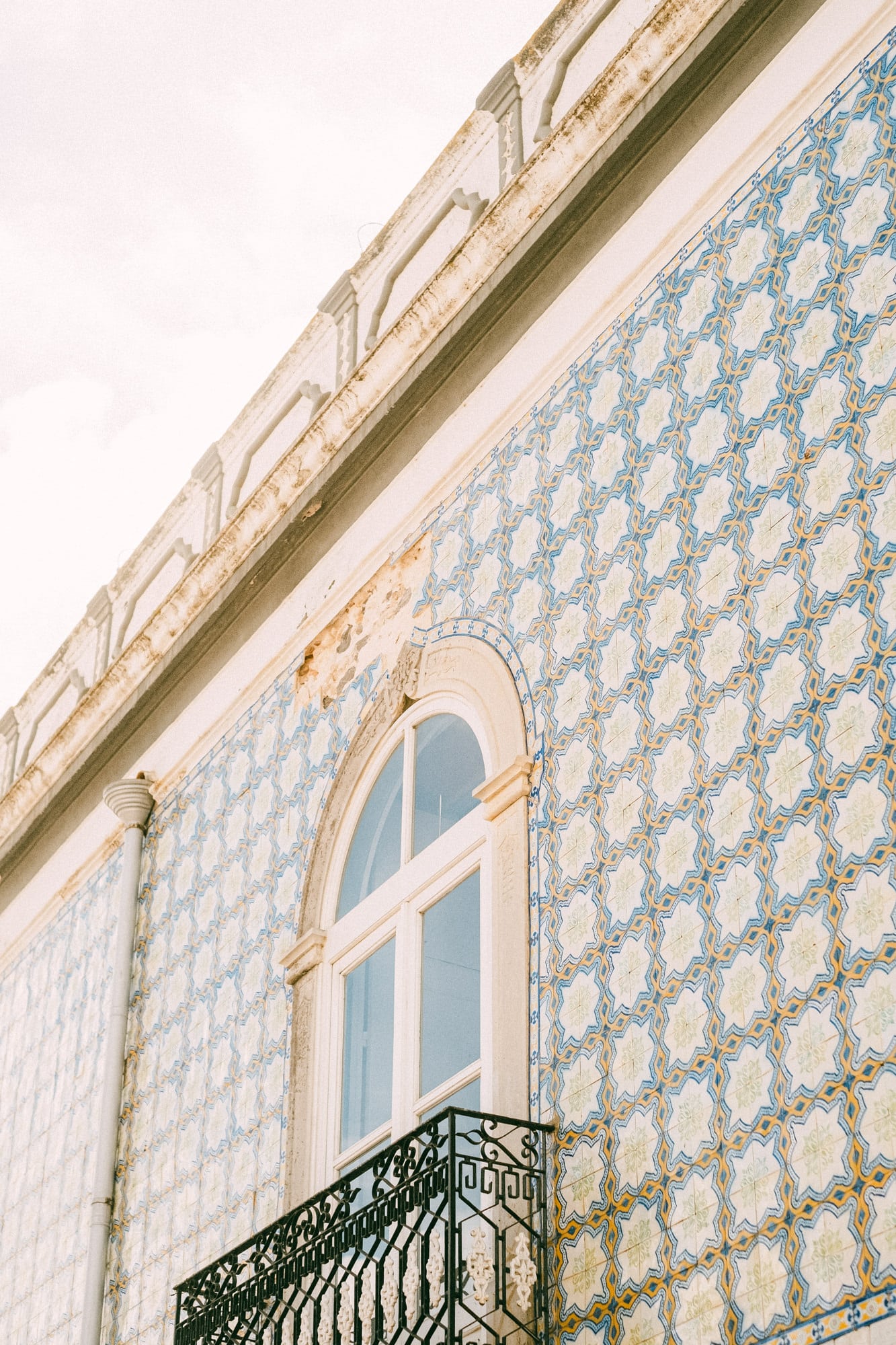 Top Portugal Wedding Venues by City
Portugal's diverse landscape is dotted with cities and regions that offer a variety of stunning wedding venues. From bustling metropolitan areas to peaceful seaside towns, each area carries its unique charm. Let's explore some of the most sought-after wedding locations in Portugal.
Lisbon Wedding Venues
The capital city of Portugal, Lisbon, blends modern sophistication with old-world charm. Its Lisbon wedding venues range from luxurious hotels with views of the Tagus River to historic palaces adorned with Portuguese azulejos (tiles). One such venue is the Páteo da Gale, offering a mix of contemporary and traditional Portuguese architecture with a stunning view of the river.
Sintra Wedding Venues
Just a short drive from Lisbon, Sintra is a fairy-tale town known for its romantic 19th-century architecture. Sintra wedding venues include the historic Pena Palace and Quinta da Regaleira, both set among lush gardens and offering breathtaking views of the surrounding landscapes.
Cascais Wedding Venues
Located on the Estoril Coast, Cascais is famed for its sandy beaches and marina. Cascais wedding venues include the Arriba by the Sea, a spectacular oceanfront venue, and The Quinta - My Vintage Wedding, a charming venue with lush gardens and a timeless, vintage feel.
Vilamoura and Albufeira Wedding Venues
In the Algarve region, both Vilamoura and Albufeira are popular for their sunny climate, golden beaches, and luxury resorts. Vilamoura wedding venues like The Lake Resort offer a mix of beach and garden settings, while Albufeira wedding venues like the São Rafael Atlântico are known for their direct beach access and stunning sea views.
Algarve Wedding Venues
The southernmost region of Portugal, the Algarve, is a favorite for its beautiful coastline and charming villages. Algarve wedding venues range from beachfront resorts to secluded villas. Venues like the Lady of the Rock, a cliff-top chapel with panoramic views of the ocean, are truly unique.
Porto and Braga Wedding Venues
In the north, Porto, known for its port wine and historic riverside district, offers a range of elegant venues such as the Palácio do Freixo. Nearby, Braga Portugal wedding venues like the Seteais Palace provide a historic and sophisticated setting.
Lagos Wedding Venues
Lagos, also in the Algarve region, is known for its walled old town, cliffs, and Atlantic beaches. Lagos Portugal wedding venues include spots like the Vivenda Miranda, which offers a panoramic view of the Atlantic Ocean.
Each of these cities offers a unique backdrop for a memorable wedding day. Whether you're after a city wedding, a beachfront celebration, or a historic palace setting, you'll find what you're looking for in Portugal.
Portugal Wedding Villas
When envisioning the ideal wedding in Portugal, many couples imagine exchanging their vows in a private, idyllic setting. Portugal wedding villas offer precisely this — a blend of seclusion, luxury, and charm that is hard to match.
Whether nestled in the rolling vineyards of Douro Valley, perched on the cliff tops of the Algarve, or situated amidst the scenic landscapes of Sintra, wedding villas in Portugal provide the ultimate combination of natural beauty and intimate comfort. These venues offer not only breathtaking views but also the exclusivity of having an entire property dedicated to your celebration.
One of the most popular areas for villa weddings is the Algarve region, renowned for its stunning coastline, sun-drenched beaches, and world-class golf resorts. Wedding villas in the Algarve range from rustic farmhouses surrounded by citrus groves and olive trees to modern, luxurious villas with infinity pools overlooking the sea.
Consider, for instance, the Vivenda Miranda in Lagos, mentioned earlier, which provides stunning panoramic ocean views from its clifftop location. Or Villa Vita Parc Resort & Spa, a five-star resort with multiple villas perfect for different wedding sizes, all providing a tranquil, private setting with a touch of luxury.
Another noteworthy mention is the Quinta Do Torneiro in Lisbon, a historical villa adorned with traditional Portuguese tiles, featuring grand rooms and beautiful gardens. For those seeking a truly exclusive experience, this venue brings together the best of Portugal's history, nature, and architecture.
In choosing a wedding villa in Portugal, couples have the opportunity to create a unique, customized experience for their guests, where the celebration extends beyond the wedding day itself. Guests can enjoy a mini-vacation, explore the local area, dine on traditional cuisine, and experience the warm Portuguese hospitality.
With a villa wedding in Portugal, you are not just choosing a venue; you are creating an intimate, unforgettable experience that encapsulates the beauty and charm of Portugal. So, whether it's a beachfront villa in Algarve, a vineyard villa in Douro Valley, or a historic villa in Lisbon, Portugal offers an impressive variety of options to suit every couple's dream of their big day.
Wedding Packages in Portugal
Choosing a wedding package can be a practical and stress-free way to plan your dream destination wedding. Wedding packages in Portugal are designed to cover all essential aspects of your big day, taking care of details you may not have considered and allowing you to focus on enjoying the experience.
Most wedding packages in Portugal are highly customizable, designed to suit varying preferences, sizes of guest lists, and budget constraints. From intimate elopements to grand celebrations, there's a package for every type of wedding.
A typical wedding package might include:
Venue hire: The cost of renting your chosen wedding venue is usually a significant portion of your budget. Most packages include this as a core component, along with setup and cleanup services.
Food and beverages: Catering is another key element covered in the package. This could range from a cocktail reception to a full-course sit-down meal, along with drinks.
Flowers and decoration: Packages often include the cost of basic decoration of the venue and floral arrangements. Customization options are usually available for additional charges.
Wedding planner: A wedding planner or coordinator is often part of the package. They will liaise with local suppliers and ensure everything runs smoothly on the day.
Legal paperwork: Some packages even help with the legalities of getting married in Portugal, such as translation services and assistance with documentation.
Optional extras can often be added to packages, such as accommodation, transport, entertainment, and hair and makeup services. Some venues also offer exclusive packages that include private use of the entire venue for several days, allowing you to turn your wedding celebration into a mini-vacation with your loved ones.
It's worth noting that while wedding packages can simplify the planning process, it's important to read all the details and understand what's included and what isn't. It's also beneficial to compare several options to ensure you're getting the best value for your money.
Whether you're planning a simple, intimate ceremony or a lavish, grand affair, wedding packages in Portugal offer a variety of options to make your special day truly unforgettable.
Small and Intimate Wedding Venues in Portugal
While grand weddings have their charm, there's something uniquely special about a small, intimate wedding. Celebrating with a close circle of family and friends allows for personalized touches and meaningful interactions that can sometimes be lost in larger events. In Portugal, there are countless venues perfect for such intimate celebrations.
When it comes to small wedding venues in Portugal, couples are spoiled for choice. From historic manors tucked away in the countryside to luxurious beachfront villas, there are many venues that cater specifically to smaller guest lists.
A small wedding can open the doors to unique venues that might be unavailable or impractical for larger celebrations. Consider, for example, the charm of an intimate ceremony at a quaint vineyard in the Douro Valley, followed by a gourmet meal featuring the vineyard's own wines.
Or perhaps the rustic elegance of a renovated farmhouse in Alentejo, where you and your guests can enjoy the tranquility of the Portuguese countryside, away from the bustle of the cities. Here, the focus can truly be on celebrating your love amidst nature and close companions.
For a coastal celebration, look towards the Algarve region. The cliff-top wedding venue Lady of the Rock mentioned earlier, is a perfect choice for couples looking to exchange vows against the backdrop of the Atlantic Ocean. Its secluded location provides an intimate setting that is both romantic and unforgettable.
Lisbon, too, offers a variety of small wedding venues. From charming rooftop terraces overlooking the city's historic quarters to chic boutique hotels, you're sure to find a venue that reflects your style and personality.
The benefits of a small wedding are many: it allows for more interaction with each guest, a possibly more relaxed schedule, a broader range of venue options, and often more flexibility with your budget.
In the end, it's all about choosing a venue that feels right for you and your partner — a place that matches your vision of the perfect day and makes you and your guests feel at home. Portugal's vast offering of intimate venues certainly makes it a dream destination for your small and beautiful wedding.
How to Plan a Wedding in Portugal
Planning a destination wedding can be an exciting yet daunting task. Here are some steps to help you answer the question, "How to plan a wedding in Portugal?"
1. Do Your Research: First, familiarize yourself with the different regions of Portugal and what each one offers in terms of wedding venues and experiences. From the vineyards of Douro Valley to the beaches of Algarve, each region has unique characteristics that may suit different couples' styles and preferences. Research also involves understanding the legal requirements for getting married in Portugal.
2. Set a Budget: Once you've done your initial research, set a budget for your wedding. Keep in mind that besides the venue and catering, you should also account for additional costs like travel, accommodation, legal paperwork, and optional extras such as entertainment and wedding favors.
3. Choose Your Venue: Your choice of venue will largely dictate the feel and style of your wedding. Consider your guest list size, the kind of atmosphere you want to create, and your budget when making this choice.
4. Visit if Possible: If your schedule and budget allow, try to visit your shortlisted venues before making a final decision. Being there in person can give you a much better feel of the place and help you envision your wedding day.
5. Hire a Wedding Planner: Hiring a wedding planner can greatly simplify the planning process. They will have insider knowledge about local vendors, be able to negotiate contracts and be your on-the-ground support leading up to and on your wedding day.
6. Book Your Suppliers: Once your venue is booked, you can start securing other suppliers such as a caterer, florist, photographer, and entertainment.
7. Handle the Paperwork: Ensure you have all the necessary paperwork in order for a legal marriage in Portugal. Depending on your nationality and residency status, this may include documents like a passport, birth certificate, and certificate of no impediment to marriage.
8. Send Invitations Early: Because you're planning a destination wedding, sending out invitations as early as possible is courteous to give your guests ample time to arrange their travel and accommodation.
9. Plan Guest Activities: To enhance your guests' experience, consider planning some activities or providing suggestions for them to explore the local area in the days surrounding your wedding.
10. Final Preparations: In the weeks leading up to the wedding, confirm all details with your venue and suppliers, make final payments, and prepare a day-of timeline.
Remember, planning a wedding in Portugal is not just about organizing an event, but creating an unforgettable experience for you and your guests in this beautiful country. With careful planning and the right support, your dream Portuguese wedding can become a reality.
Legalities of Getting Married in Portugal
Getting married in a foreign country often involves understanding and complying with local legal requirements. In Portugal, these requirements are reasonably straightforward, and both EU and non-EU citizens can get married in the country. Here are the answers to the questions, "Can EU citizens get married in Portugal?" and "Can I get married in Portugal as a foreigner?"
Can EU Citizens Get Married in Portugal?
Yes, EU citizens can get married in Portugal. They need to provide certain documents, including a valid passport or ID card, a birth certificate, and a certificate of no impediment to marriage. These documents should be translated into Portuguese and notarized.
The certificate of no impediment is a document stating that there are no legal obstacles to your marriage. You can typically obtain it from your home country's embassy or consulate in Portugal, but procedures can vary between countries.
Can I Get Married in Portugal as a Foreigner?
Yes, non-EU citizens can also get married in Portugal. The documents required are similar to those for EU citizens: a valid passport, a birth certificate, and a certificate of no impediment to marriage. All documents need to be translated into Portuguese and notarized.
Depending on your nationality, you may also need a visa to enter Portugal. It's recommended to contact the Portuguese embassy or consulate in your home country for detailed information.
In both cases, after gathering the required documents, you must submit them to the Civil Registry Office (Conservatória do Registo Civil) in the area where you wish to get married. This should be done at least 30 days before the intended wedding date.
It's also important to note that Portugal recognizes both civil and religious marriages. Civil ceremonies can take place at a Civil Registry Office or at certain pre-approved venues. For religious ceremonies, there may be additional requirements depending on the religious institution.
Marriages in Portugal are legally binding under international law, and a marriage certificate issued in Portugal is usually valid in other countries. However, it's advisable to check the recognition of a Portuguese marriage certificate in your home country.
Remember, while it may seem like a daunting task, navigating these legalities is an essential part of planning your wedding in Portugal. Professional wedding planners or legal advisers with experience in destination weddings can be incredibly helpful in guiding you through this process.
The Cost of a Wedding in Portugal
When planning a destination wedding, one of the key factors to consider is cost. Here, we'll delve into some frequently asked questions such as "How much does a wedding venue cost in Portugal?", "How much do most people spend on a wedding venue?" and "How much is a luxury wedding in Portugal?".
How Much Does a Wedding Venue Cost in Portugal?
The cost of wedding venues in Portugal can vary widely, depending on factors such as location, size, and the type of venue. On average, you can expect to pay anywhere from €5,000 to €25,000 for venue hire. This price usually includes basic amenities such as tables, chairs, and sometimes basic décor, but it's always best to check what exactly is included in the quote.
For instance, a countryside manor in Douro Valley may cost less than a high-end resort in the Algarve. Similarly, an intimate beachfront villa may have a different price point than a grand palatial estate in Sintra.
How Much Do Most People Spend on a Wedding Venue?
On average, couples usually spend about 50% of their total wedding budget on the venue. However, this can fluctuate based on personal priorities. Some couples may prefer to allocate a larger chunk of their budget to food and drinks, while others may prioritize décor or entertainment. It's important to note that this cost is typically separate from other major expenses such as catering, flowers, photography, and entertainment.
How Much is a Luxury Wedding in Portugal?
The sky is the limit when it comes to luxury weddings. Depending on the extravagance of the event, a luxury wedding in Portugal can range from €50,000 to well over €150,000. Factors contributing to this cost include a high-end venue, gourmet catering, premium alcohol, lavish décor, live entertainment, luxury transportation, professional photography and videography, and a full-service wedding planner.
Keep in mind that the cost of a wedding in Portugal can be significantly lower than in other popular European wedding destinations such as France or Italy. This, combined with the country's natural beauty, rich history, and excellent weather, makes Portugal an attractive destination for couples planning a destination wedding on any budget.
Remember, a wedding is a personal event, and what matters most is that it reflects you as a couple. Whether you opt for a small, intimate ceremony or a lavish, grand event, the most important thing is that your day feels special and meaningful to you.
Conclusion
Portugal, with its captivating landscapes, rich culture, and sun-drenched coastlines, is undeniably one of the most enchanting destinations to say 'I do'. Whether you're drawn to the sophistication of Lisbon, the romantic allure of Sintra, the seaside charm of Algarve, or the rustic beauty of Porto, this remarkable country offers a multitude of options to suit every couple's dream.
Wedding venues in Portugal range from grand palatial estates and chic city lofts to serene seaside villas and rustic countryside manors, ensuring a perfect fit for any style or size of celebration. The possibility of finding affordable wedding venues in Portugal adds to its charm, making it an attractive choice for those planning both luxurious and budget-friendly weddings.
In addition to its aesthetic appeal, Portugal's advantageous wedding laws make it a practical choice for both EU and non-EU citizens. The legal process, while requiring some paperwork, is straightforward and well-structured, making it possible for couples from all over the world to tie the knot in this stunning country.
Factor in the country's outstanding cuisine, world-class wines, and the renowned warmth of its people, and it's clear that Portugal truly is a dream wedding destination.
However, as with any destination wedding, planning a wedding in Portugal requires careful preparation. It is essential to understand the legal requirements, consider the best times to wed, and have a clear idea of the costs involved. Consider hiring a professional wedding planner who is familiar with Portugal and its wedding industry to assist you.
In the end, the goal is to create a memorable experience that celebrates your love story. As you exchange vows against the backdrop of a setting sun, surrounded by the people you love, you'll find that every moment of planning has been worth it. Portugal, with its undeniable charm and romance, provides the perfect backdrop for this unforgettable day.