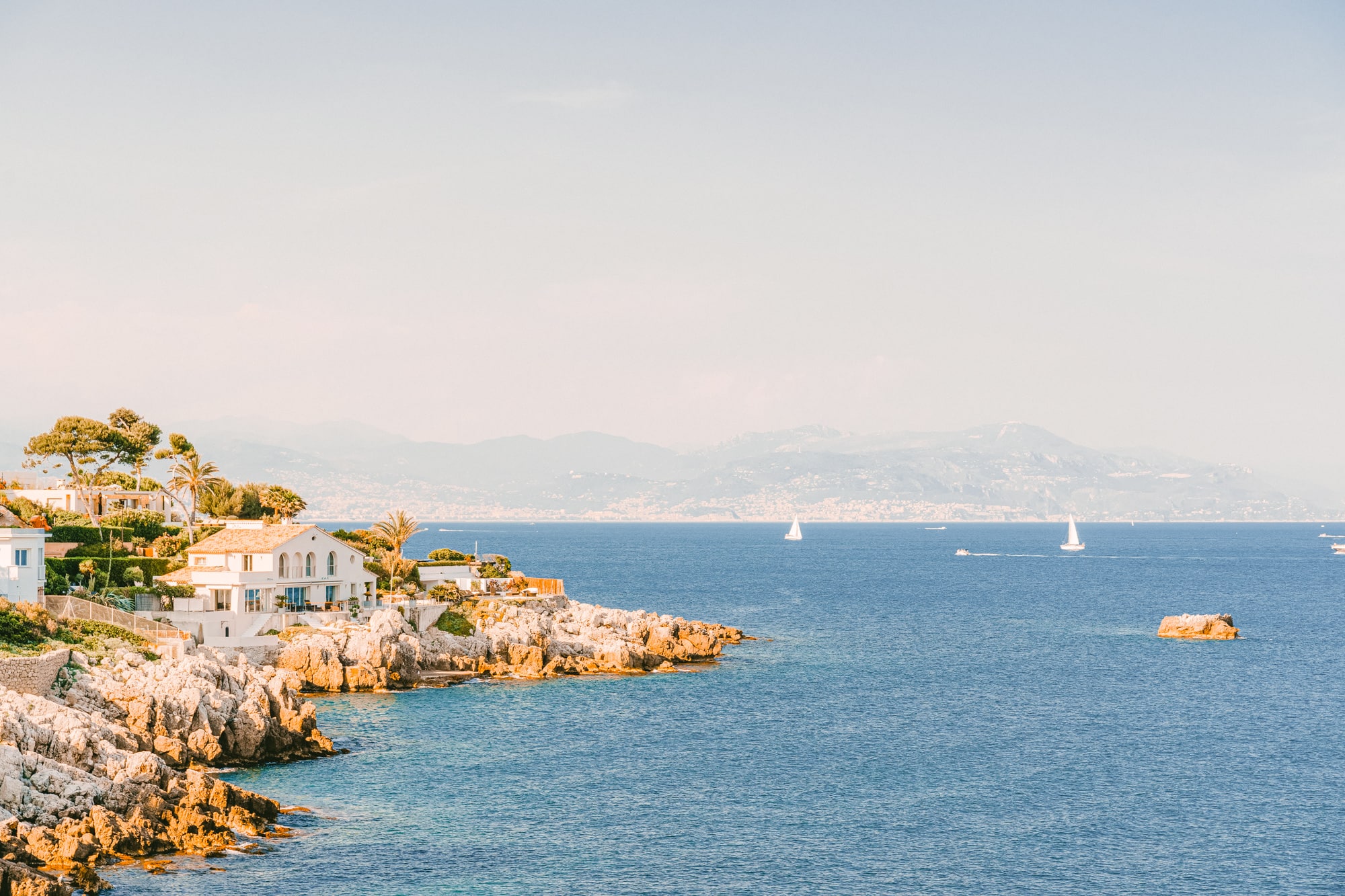 Introduction
Imagine the soft melody of a French accordion, the sun-drenched vineyards, the historic châteaus, the sweeping Mediterranean coastline, and the delectable aroma of authentic French cuisine filling the air. This is the captivating and enchanting allure of a South France wedding. As a destination, South France offers a unique blend of rustic charm, high-end sophistication, and an unbeatable romantic ambiance, making it an irresistible choice for modern couples looking for that perfect fairy-tale wedding.
Whether it's saying 'I do' in a centuries-old château, sharing a kiss under a blossoming vineyard, or dancing the night away on a sun-kissed beach, each South France wedding is as unique and beautiful as the couples themselves. The blend of cultural richness, stunning landscapes, exceptional gastronomy, and spectacular wedding venues, from lavish to cozy, have crowned South France as a quintessential location for unforgettable nuptials.
Join us as we explore the myriad offerings of South France weddings, answer common queries, and delve into the key considerations and planning aspects to help make your dream of a chic, unique, and utterly sophisticated South France wedding come true.
The Allure of a South France Wedding
A South France wedding is a visual feast, brimming with all the ingredients that make up the perfect romantic event - love, beauty, and an unmistakable sense of enchantment. But what is it exactly that sets a Southern France wedding apart from other destination weddings?
Firstly, the unmatched allure of the region itself. Southern France, with its spectacular panorama of azure seas, lush vineyards, lavender fields, and charming hilltop villages, presents the perfect backdrop for any wedding. This stunning scenery, coupled with the region's rich cultural heritage, provides a uniquely romantic setting for a South France Wedding.
Then there's the incredible variety of venues on offer. The South of France boasts a plethora of enchanting locations to choose from, each with its own distinct charm. Whether it's a grand château overlooking the Riviera, a rustic farmhouse nestled among vineyards, or a private beach venue kissed by the Mediterranean sun, couples are truly spoiled for choice when planning their destination wedding in the south of France.
Finally, there is the enticing option of a South of France Elopement. The region's innate romance and the relative ease with which a wedding can be organized make eloping in South France a dream come true for many couples. The promise of an intimate ceremony in an idyllic location, far from the pressures of a traditional wedding, has a distinctive allure all its own.
In essence, a South France wedding embodies the very essence of romance - breathtaking landscapes, historic and picturesque venues, delicious cuisine, and the opportunity for an intimate, personalized celebration. Whether you're drawn by the call of the Mediterranean, the romance of the vineyards, or the charm of the Provençal countryside, a South France wedding promises an unforgettable start to your happily ever after.
Getting Married in the South of France
South of France, with its unparalleled charm and beauty, naturally incites the question, "Can you get married in the South of France?" The answer is a resounding yes, and this applies not only to residents but also to foreigners. But "Can a foreigner get married in France?" and more specifically, "Can I get married in France on a tourist visa?" come with a bit more nuance.
France has specific requirements for a legally binding marriage, including a residency period of at least 30 days in the town where the wedding is to be held, followed by the publication of the banns of marriage 10 days before the wedding. Because of these requirements, foreigners, unless they are residents, often choose to have a civil ceremony in their home country, followed by a symbolic ceremony or reception in France. This allows couples to enjoy the magic of a South of France Wedding without navigating complex legal processes.
But is it difficult to get married in France? The answer largely depends on the type of ceremony you choose. For a symbolic ceremony - which most destination weddings are - the process is relatively straightforward. A wedding planner can help guide you through local customs, etiquette, and planning logistics.
So, what do foreigners need for marriage in France? For a symbolic ceremony, you'll need to coordinate with your venue and possibly a wedding planner. The requirements for a legal ceremony, however, are more complex and include documentation like a birth certificate, affidavit of law, and proof of residence.
"How quickly can you get married in France?" For residents planning a civil ceremony, the process can take around 4-6 weeks, due to the residency and banns publication requirements. For a symbolic ceremony, the timeline can be significantly shorter and is largely dependent on your specific plans and preparations.
As for the "rules for marriage in France", they include legal age requirements (18 for both men and women), consensual agreement, and for civil ceremonies, the aforementioned residency rule.
With these considerations in mind, getting married in the South of France can be an exceptionally beautiful and memorable experience. Whether it's a grand château, a quaint vineyard, a sun-soaked beach, or an ancient abbey, the places to get married in the South of France are nothing short of breathtaking, making the extra planning steps worth every effort.
The Perfect Venue: Wedding Chateaus, Villas, Vineyards, and Beaches
The South of France is blessed with an incredible array of wedding venues, each offering a unique blend of charm, elegance, and a quintessentially French ambiance. Let's explore some of the enchanting South of France Wedding Venues that can bring your dream wedding to life.
Wedding Chateau South of France
The epitome of luxury and grandeur, a wedding chateau in South of France promises a truly regal wedding experience. Picture a historic, architectural masterpiece set amidst manicured gardens and scenic landscapes, offering panoramic views of the French countryside or Riviera. A chateau wedding can accommodate large celebrations or intimate gatherings, with the breathtaking backdrop and lavish interiors providing endless options for unforgettable ceremonies and stunning wedding photos.
Wedding Villas South of France
For those desiring a more private, intimate setting, wedding villas South of France offer a perfect solution. These venues often come with their own distinct character, blending the warmth of a home with the luxury of a high-end wedding venue. From modern, minimalist villas with sweeping sea views to classic, rustic villas nestled in lush vineyards, the diversity of villa wedding venues ensures you'll find the perfect match for your wedding theme and style.
South of France Vineyard Wedding
There's an undeniable romance to a South of France vineyard wedding. Saying 'I do' amidst rows of grapevines, with the golden hues of the setting sun painting a breathtaking backdrop, is a dream for many couples. Vineyard weddings also allow couples to incorporate elements of wine culture into their celebration - think wine tastings, vineyard tours, and even custom-labeled wine bottles as wedding favors.
Beach Wedding South of France
For lovers of sand, sea, and sunny skies, a beach wedding South of France is hard to beat. The South of France boasts some of the world's most beautiful beaches - from the glamorous shores of the French Riviera to the serene, unspoiled beaches of the Languedoc-Roussillon region. A beach wedding allows for a relaxed yet chic vibe, with the azure Mediterranean serving as a spectacular backdrop.
The magic of the South of France as a wedding destination lies in its diversity. Whether you're drawn to the grandeur of chateaus, the intimacy of villas, the romantic allure of vineyards, or the laid-back charm of beach venues, you will surely find the perfect setting for your dream wedding in the South of France.
The Costs of a South of France Wedding
As with any wedding destination, the cost of a wedding in the South of France can vary widely depending on the scale of your event, choice of venue, time of year, and personal preferences. So, how much do weddings in South of France cost?
For a luxury wedding in southern France, costs can range anywhere from €40,000 to over €100,000. This would typically include a high-end venue, catering for a large number of guests, professional wedding planning services, decor, entertainment, and extras like fireworks or a designer wedding dress.
On the other end of the scale, for those seeking affordable wedding venues South of France and willing to perhaps keep their guest list smaller, choose a less well-known location, or marry out of peak season, it's possible to significantly reduce costs. For such weddings, it's feasible to budget around €20,000 to €40,000.
It's worth noting that the costs mentioned above typically do not include expenses like travel and accommodations for you and your guests, which will depend on your arrangements and could add significantly to the total wedding budget.
And how much does a marriage cost in France? If you're referring to the civil ceremony that takes place at the local town hall, it's actually free of charge. However, there may be related costs for translating and notarizing documents if you're a foreign couple.
Remember, while the South of France wedding cost may seem steep compared to other locations, you're investing in more than just a wedding. You're creating an unforgettable experience in one of the world's most stunning regions, and the memories you'll make are priceless. No matter what your budget is, the South of France offers a range of breathtaking venues and options that can help you create your dream wedding.
South of France Wedding Packages
Navigating the planning of a wedding in a foreign country can be complex, which is why many couples opt for South of France wedding packages. These packages are designed to help simplify the process, often including elements like venue hire, catering, flowers, and sometimes even accommodation and transport. Each package is often curated by experienced wedding planners who have an in-depth knowledge of the local suppliers and can ensure that every detail is meticulously taken care of.
There are a variety of wedding packages available in the South of France to cater to different styles, budgets, and sizes of weddings. Here's a brief overview of what you might expect:
Luxury Wedding Packages
These packages are perfect for those looking for a high-end, opulent wedding experience. They often include exclusive use of a spectacular venue such as a château or high-end villa, premium catering options, live entertainment, bespoke decor, and personalized event planning services.
Intimate Wedding Packages
For those desiring a smaller, more personal celebration, there are packages designed specifically for intimate weddings or elopements. These may include a charming venue suited for a smaller guest list, personalized ceremony planning, a romantic dinner, and perhaps extras such as a champagne toast or a bridal bouquet.
Themed Wedding Packages
To truly immerse in the spirit of the region, you might consider a themed package, such as a vineyard wedding package or a beach wedding package. These will not only include the basics of venue, and food but also elements that enhance the theme like a wine-tasting session, a beach-side barbecue, or decorations that complement the surroundings.
Customizable Wedding Packages
Some providers offer the flexibility of customizable packages where you can pick and choose the services you want. This can be a great option if you have specific ideas about some aspects of your wedding, but still want the ease and convenience of a package deal.
While South of France wedding packages can simplify the planning process, it's crucial to carefully review what's included and ensure it aligns with your vision for your special day. With careful consideration and planning, these packages can help you realize your dream of a truly unforgettable South of France wedding.
The Ideal Time for a South France Wedding
The South of France boasts a typically Mediterranean climate with warm summers and mild winters, which means it's a viable destination for a wedding at almost any time of the year. However, choosing the ideal time for your South France wedding depends on a few factors, including your preference for weather, the venue availability, and your budget.
So, what is the best month to get married in South of France?
Peak Season – Summer
The most popular time for weddings in the South of France is during the summer months, from June to August. This period offers the best weather with long, sunny days and little to no rain, making it perfect for outdoor ceremonies and receptions. The azure sea, golden beaches, and lush vineyards are at their most stunning during these months, providing gorgeous backdrops for wedding photos.
However, this is also the busiest time for tourism, so venues can get booked up quickly, and costs can be at their highest. If you're considering a summer wedding, it's recommended to book your venue and suppliers well in advance.
Shoulder Season – Spring and Autumn
The months of May, September, and October, known as the shoulder season, can be a great alternative for those who prefer slightly cooler temperatures and fewer crowds. The weather during these months is still generally warm and pleasant, with the added bonus of spring blossoms or autumn foliage enhancing the natural beauty of the region. Additionally, costs can be somewhat lower during these periods as they fall outside of the peak tourist season.
Off-Peak Season – Winter
While winter (November to March) is the off-peak season in the South of France, it can still offer a unique and charming setting for a wedding, particularly if you're considering a venue like a château or a villa that can provide a cozy, romantic atmosphere. Costs during this time are typically lower but keep in mind that outdoor activities could be limited due to cooler weather and shorter days.
Ultimately, the best month to get married in the South of France depends on your personal preferences and the kind of atmosphere you want for your special day. With careful planning and consideration, any time of year can provide a beautiful and memorable setting for your wedding.
Conclusion
From the sun-drenched beaches of the French Riviera to the lush vineyards of Provence and the majestic chateaus of Gascony, the South of France offers a tapestry of captivating wedding destinations. It's a place where unparalleled beauty, romance, and sophistication converge to create the perfect setting for your special day.
Whether you're considering a grand, luxurious celebration in a château, a romantic vineyard wedding, or a tranquil beach elopement, this region caters to every style and budget. Its range of wedding packages, world-class services, and the allure of its unique culture and gastronomy make a South France wedding an unforgettable experience.
"How much do weddings in South of France cost?" or "Can a foreigner get married in France?"—questions like these are important to consider. Yet, beyond the logistics and planning, remember that your wedding is a once-in-a-lifetime event. And the South of France, with its enchanting landscapes and timeless elegance, is the place to make your dream wedding a reality.
So, why wait? Embark on the journey of planning your South France wedding. Picture yourself saying 'I do' amidst the beautiful landscapes, surrounded by your loved ones, and create memories that will last a lifetime. A South of France wedding isn't just an event—it's the beginning of an unforgettable adventure. Start planning yours today!