Introduction
A destination wedding is a beautiful opportunity to create unforgettable memories in a picturesque Ibiza Wedding Venue. The chance to escape the usual, exchange vows in an exotic locale, and offer guests an experience they'll remember forever has fueled a growing trend in such celebrations. One destination that perfectly captures this allure is Ibiza. Renowned for its stunning beaches, vibrant culture, and unforgettable nightlife, Ibiza wedding venues offer an enchanting blend of romance and excitement.
The Charm of Ibiza Wedding Venues
Ibiza, a jewel in the Mediterranean, is increasingly becoming the go-to destination for couples seeking a unique, sophisticated, and memorable wedding experience. The island's versatility is its charm, offering a variety of settings from the tranquility of secluded beaches to the splendor of luxurious resorts. The best wedding venues in Ibiza cater to a broad range of preferences, reflecting the island's multifaceted appeal.
The island's enchanting landscape serves as a beautiful backdrop for weddings. Imagine exchanging vows as the sun sets over the sea, or dancing the night away under a canopy of stars - these are the moments that make Ibiza weddings so captivating. Whether it's a grand event in a high-end hotel or a more intimate celebration at one of the many small wedding venues in Ibiza, each location provides its unique charm and a setting that promises a truly unforgettable experience.
Ibiza's distinct culture, natural beauty, and world-renowned hospitality make it a standout choice among European wedding destinations. The island's magnetic appeal extends beyond its physical attributes. The local culture, brimming with warmth and friendliness, ensures that not just the couple, but every guest feels welcome and embraced in the celebration. These compelling qualities combine to position Ibiza among the best wedding venues in Europe.
Whether you are drawn to the secluded coves, the stylish beach clubs, the rustic fincas, or the luxury villas, Ibiza wedding venues cater to every style and fantasy. For the couple looking to create a truly unique wedding experience, Ibiza presents an array of options, each offering its charm and appeal. Stay tuned as we explore some of these venues and provide useful tips on planning a destination wedding on this magical island.
Destination Wedding Logistics
Planning a wedding in an exotic location like Ibiza involves several key considerations. Here, we will address common questions regarding costs, legalities, location choices, and timing for your special day.
Costs and Packages
"How much does it cost to get married in Ibiza?" is a frequently asked question. While the answer can vary significantly depending on several factors like venue, number of guests, and time of year, you can expect a high-end wedding in Ibiza to start around €10,000 and go up depending on the extras you want to include.
One way to manage costs is through Ibiza wedding packages offered by various venues and wedding planners. These packages often include elements like the venue, catering, basic decoration, and photography. By opting for a package, you can save yourself some stress and potentially some money. Remember, it's your day. Plan for what makes you happy, but ensure you're comfortable with the costs associated with your choices.
Legalities for Foreigners
The next question to address is, "Can foreigners get married in Ibiza?" The answer is yes, but there are a few legal hoops to jump through. Non-residents can have a civil partnership or symbolic ceremony in Ibiza, but for a legally recognized marriage, one partner must have been a resident of Spain for the past two years. However, many couples choose to legally marry in their home country and then have a ceremonial event in Ibiza.
Location Considerations
Ibiza offers a plethora of breathtaking locations for your wedding ceremony. The question "Where do people get married in Ibiza?" sees a variety of answers, as this depends largely on personal preference. From luxurious resorts and villas such as Las Cicadas Ibiza, to rustic fincas, beach clubs, and more secluded spots in areas like Santa Eulalia, there are venues to suit every couple's taste when getting married in Ibiza.
Timing Your Ibiza Wedding
Finally, "What month is best to get married in Ibiza?" and "What is the slowest month for weddings?" The months of May, June, September, and October are often favored due to more temperate weather and lesser crowds compared to the peak summer months. The slowest month for weddings is typically January when the island experiences cooler temperatures.
Remember, a destination wedding is as much about the experience as it is about the event itself. Embrace the journey of planning your dream wedding in Ibiza. With a bit of organization and flexibility, you're on your way to one of the most memorable days of your life.
Unique Ibiza Wedding Venues
The allure of Ibiza is in its breathtaking beauty and the unique, romantic experiences that it offers. The island is home to some truly distinctive wedding venues that merge natural splendor with exceptional service. Let's explore a few that capture the essence of the island and offer an unforgettable setting for your special day.
Ibiza Wedding Villas
Villas in Ibiza are renowned for their stunning views, luxurious interiors, and intimate atmospheres. Perfect for small to medium-sized weddings, these villas provide a perfect backdrop for both the ceremony and reception. Whether you're dreaming of a ceremony with panoramic sea views or a garden party under the stars, Ibiza's wedding villas have it all.
Villa Paissa D En Bernat Ibiza Wedding
Villa Païssa d'en Bernat, situated in the San Jose mountains, offers a dreamy setting for an exclusive and intimate wedding. This villa boasts spectacular sea views, manicured gardens, and a stunning pool area perfect for post-ceremony celebrations. With a dedicated team to take care of all details and beautiful accommodations for the wedding party, a Villa Païssa D En Bernat Ibiza wedding ensures an unforgettable experience.
Las Cicadas is another exquisite villa that doubles as a fantastic wedding venue. Its blend of rustic charm with modern comfort sets a unique ambiance. The property features extensive grounds with lush gardens, a pool, and multiple spaces to set up a stunning ceremony and reception. Combining comfort with authentic Ibizan style, Las Cicadas offers a picturesque setting for your special day.
These are just a couple of examples of the many stunning venues that Ibiza offers. With such a diverse selection of venues, it's no wonder that Ibiza is one of Europe's top wedding destinations. Whether it's a beach club, a luxurious resort, or an intimate villa, Ibiza has the perfect venue to make your wedding dream come true.
Planning Your Ibiza Wedding
Planning a wedding in Ibiza can be an exciting journey. Here are a few steps to guide you through the process:
Set a Budget: Determine what you're comfortable spending and where your money should go. Consider the costs of venue, catering, photography, accommodation, and other services.
Choose the Right Venue: With many options, from lavish resorts to rustic fincas and luxury villas, choose a venue that aligns with your style and budget.
Hire a Wedding Planner: Especially for destination weddings, a local wedding planner can help you navigate through the logistics and ensure every detail is taken care of.
Pick a Date: Choose a date that works best for you, considering the local weather and tourist seasons in Ibiza.
Guest List and Invitations: Decide on the number of guests and send out invites well in advance. This gives your guests ample time to plan their trip.
Menu and Decor: Ibiza offers a great variety of local and international cuisines. Also, decide on decor that matches your style and the venue's vibe.
Legal Requirements: If you're a foreigner, ensure you know the legal aspects of getting married in Ibiza.
Planning a wedding can be a challenging task, but remember that it's also a wonderful journey toward one of the most special days of your life. Enjoy the process!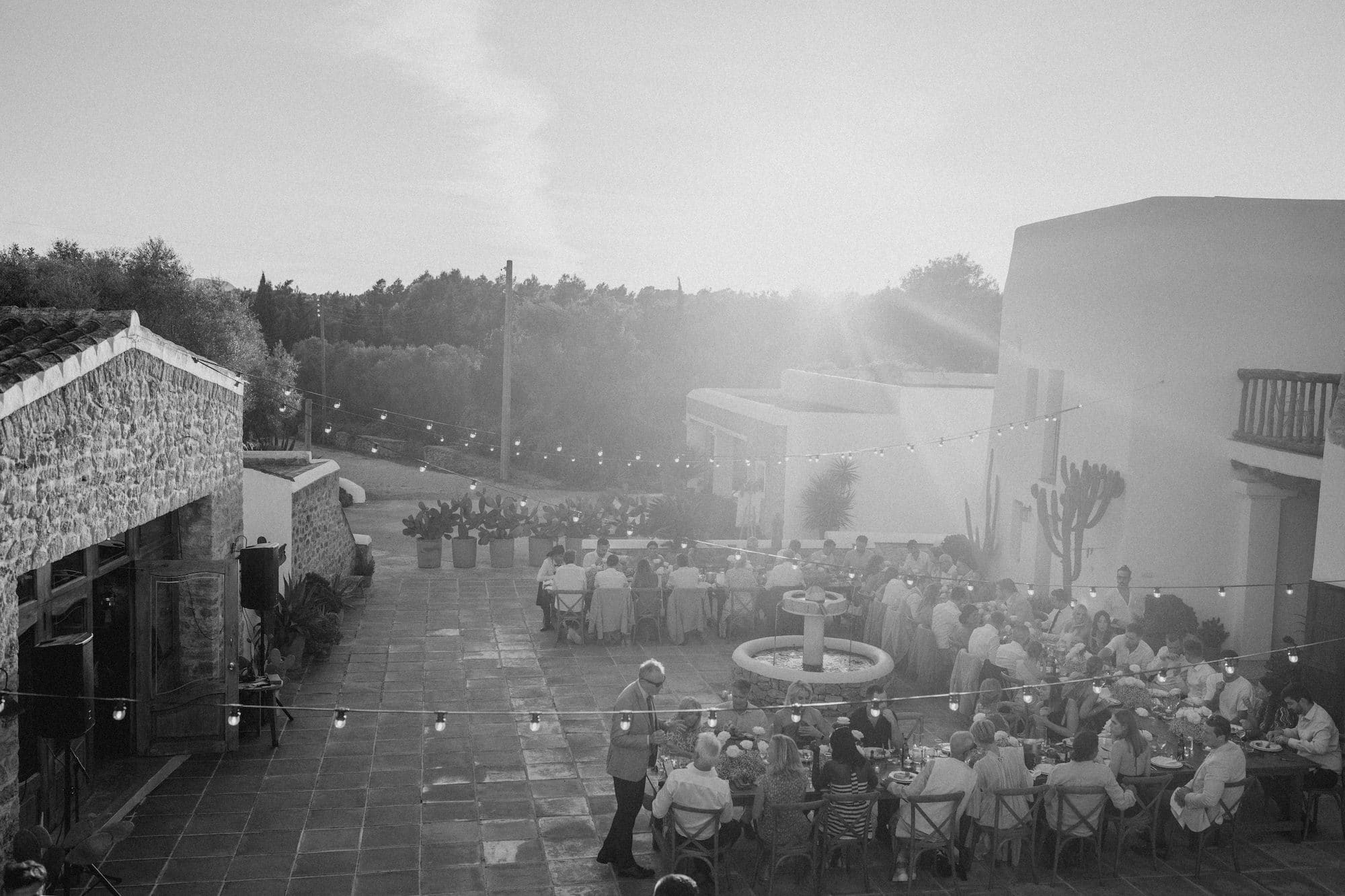 Conclusion
Ibiza, with its stunning landscapes, beautiful weather, and diverse wedding venues, offers a dreamy setting for any couple looking to tie the knot. Whether you envision an intimate beach ceremony at sunset or a grand celebration in a luxury villa, Ibiza has the perfect venue to bring your wedding dreams to life.
Planning a wedding from afar might seem daunting, but with the right resources and a bit of organization, you can design an unforgettable celebration that reflects your unique style and love story. Ibiza is more than just a wedding destination. It's a place where memories are made, stories are shared, and love is celebrated in the most beautiful ways. Here's to your beautiful beginning on this enchanting island!