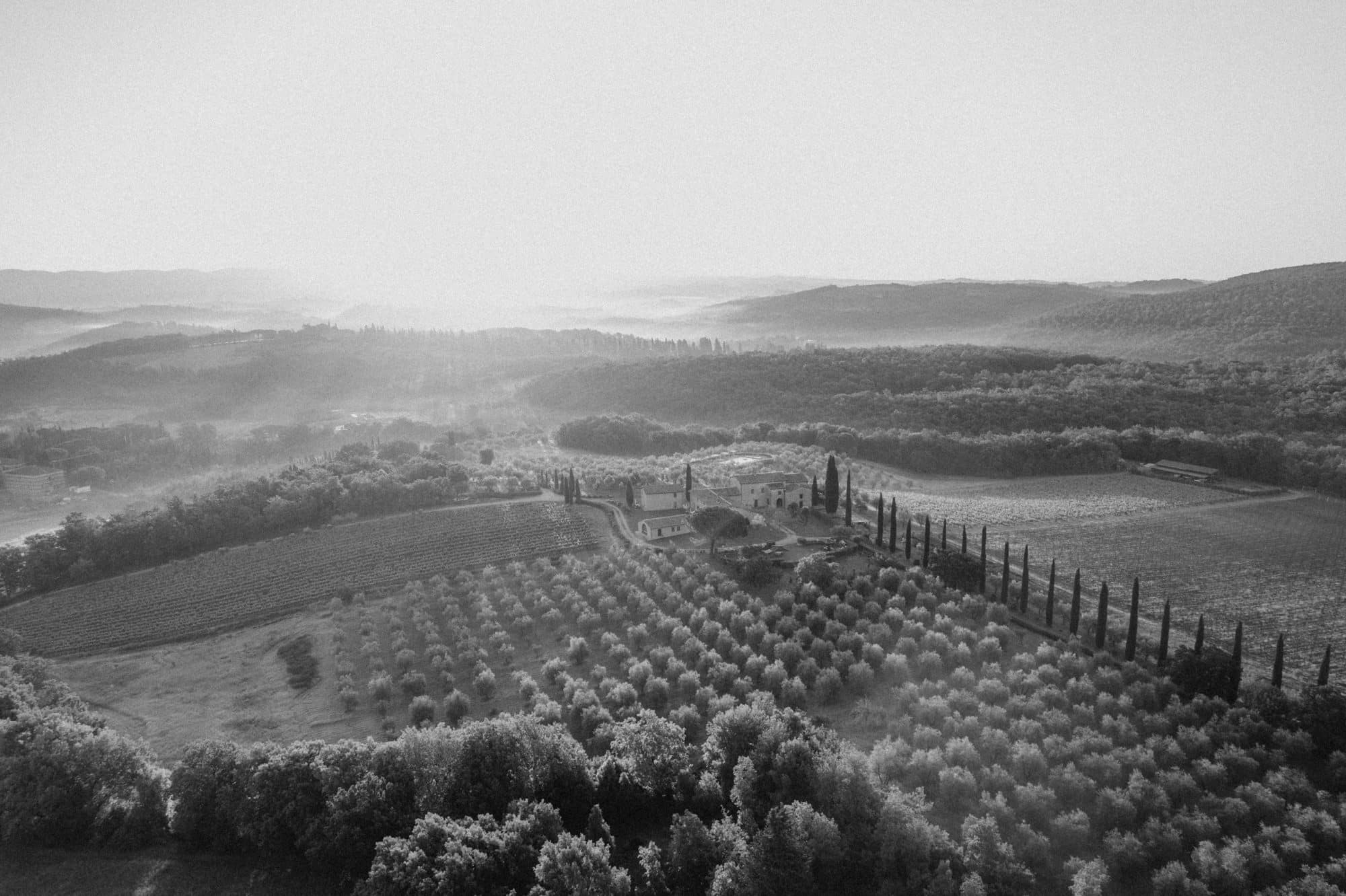 Tuscany Wedding - A Dream Come True
Tuscany: a land of rolling hills draped in golden sunsets, iconic cypress trees standing like sentinels of time, historic vineyards, and heritage-filled cities echoing tales of love from centuries past. This picturesque region, nestled in the heart of Italy, embodies the quintessence of romance, making it one of the world's most coveted wedding destinations.
A Tuscany wedding is more than just an event; it's an unforgettable experience that seamlessly blends timeless elegance, enticing culture, and exquisite gastronomy. Whether it's an intimate ceremony in a medieval castle, a grand spectacle in a Florentine villa, or a laid-back affair amidst a serene vineyard, Tuscany caters to all tastes while offering a unique backdrop for the union of two souls.
For couples yearning for a touch of sophistication, an innate connection with history, and the allure of the Italian dolce vita, there's no better place to say "I do". This article is your comprehensive guide to everything you need to know about planning your dream wedding in the enchanting realms of Tuscany.
From the costs, selecting the perfect venue, navigating the wedding planning, and deciding on the ideal season, to making the most of your Tuscan experience, we'll journey through each vital step to ensure your Tuscany wedding is nothing short of perfect. Let's delve into the captivating world of Tuscany weddings, a world where every moment is a memory waiting to be made.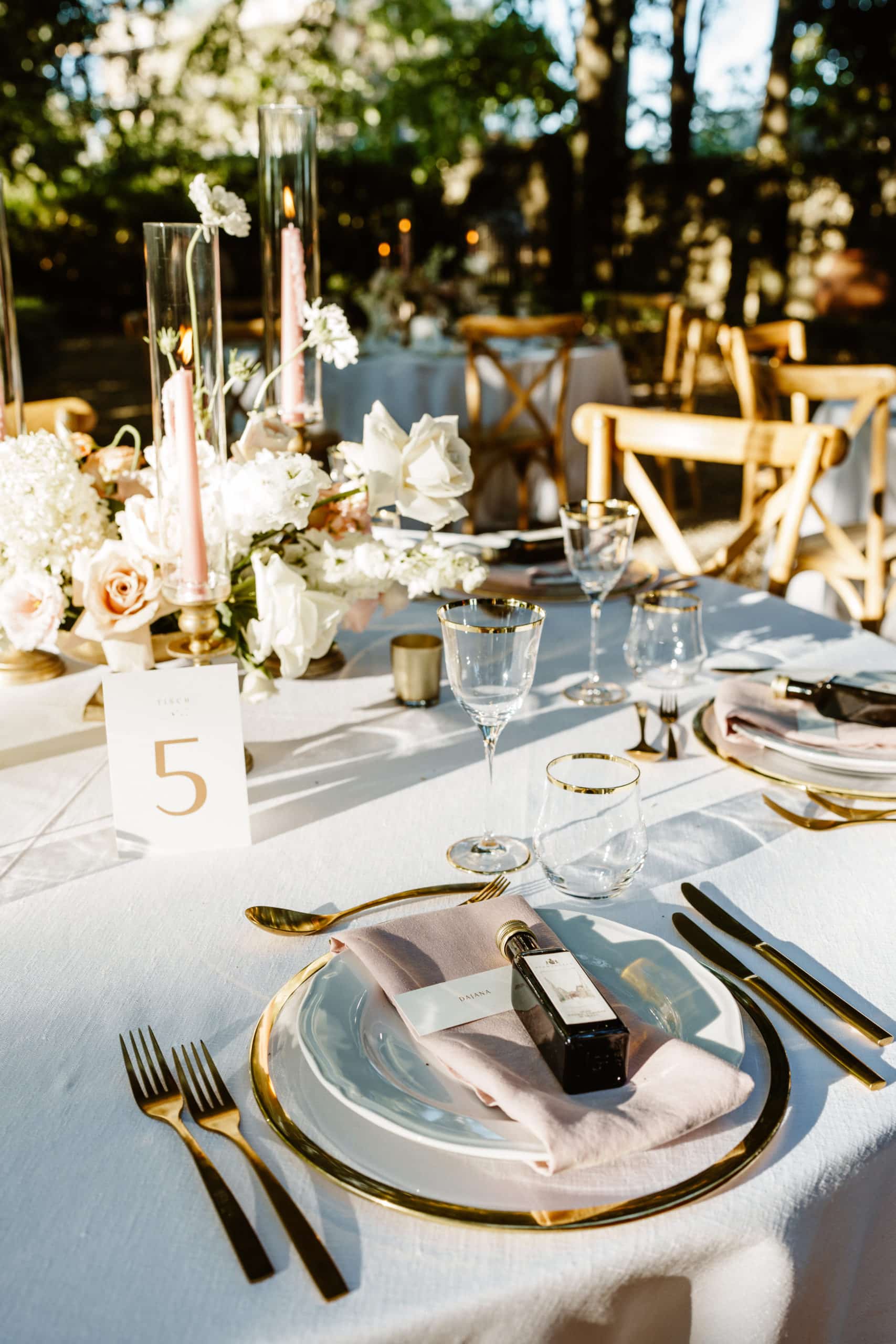 Why Choose Tuscany for Your Wedding? An Enchanting Tuscany Destination Wedding Awaits
Choosing a wedding destination is a significant decision, and when it comes to capturing the essence of romance, few places rival Tuscany. This stunning region, globally renowned for its breathtaking landscapes, architectural marvels, and rich cultural heritage, provides an unparalleled setting for a truly memorable wedding.
The Charm: The allure of Tuscany lies in its ability to seamlessly blend tradition with luxury. Each town, from the iconic Florence to the charming Siena or Lucca, holds its unique appeal. The region is dotted with rustic farmhouses, grandiose villas, and picturesque vineyards, all of which can serve as a distinctive backdrop to your special day. Tuscany has the incredible ability to transform your wedding day into a page from a fairy tale, with its stunning landscapes providing a canvas for your memories.
The History: Tuscany is steeped in history, and having your wedding here means you become part of that lineage. Imagine saying your vows in the same place where Michelangelo once sculpted or within view of the tower Galileo used for his astronomical observations. There's a profound sense of continuity and connection to the past that is both humbling and inspiring.
The Beauty: Tuscany's natural beauty is indisputable. From the verdant rolling hills of the Chianti region to the dramatic cliffs and beaches of the Etruscan Coast, there's a captivating view around every corner. But it's not just the scenery that's beautiful. Tuscan light has a special quality, especially at sunset, that can lend an ethereal beauty to your wedding photographs.
The Culture: Tuscany is a cultural powerhouse, a place where art, literature, and the culinary arts converge. Your wedding guests will have the chance to immerse themselves in this rich culture, explore art galleries, and historical monuments, and experience the world-renowned Tuscan gastronomy.
Choosing Tuscany for your wedding means choosing a locale that is vibrant, beautiful, and deeply rooted in cultural traditions. It provides an immersive experience that your guests will remember just as fondly as you will. Embrace the charm, history, and beauty of this stunning region and create the wedding of your dreams with a Tuscany destination wedding.
Decoding the Costs: Understanding the Financial Implications of Your Dream Tuscany Wedding
Planning a wedding in Tuscany, or anywhere in Italy for that matter, can be a dream come true. However, before embarking on this exciting journey, it's crucial to have a clear understanding of the financial commitments involved. So, what is the average cost of a wedding in Italy, and what does a luxury wedding in Italy cost?
The Average Cost of a Wedding in Italy: Costs can vary greatly depending on several factors, but as a general guide, the average cost of a wedding in Italy ranges from €20,000 to €80,000. This figure typically covers venue hire, catering, drinks, decoration, photography, and a wedding planner's services. It's important to note that this is a rough estimate, and costs can be lower or higher depending on your specific requirements.
The Luxury Wedding Cost in Italy: For couples who desire an ultra-luxurious experience, the cost can escalate significantly. A high-end, luxury wedding in Italy can range from €100,000 to €500,000 or more, depending on the grandeur and exclusivity of the event.
Several factors can influence these costs, including:
Venue Selection: Iconic venues or exclusive estates may command higher fees. The cost also varies depending on whether you opt for a package deal, including additional services, or choose a bespoke experience.
Guest Count: The number of guests you plan to invite will significantly impact your budget. More guests mean more food, drinks, and possibly larger or additional venues.
Time of Year: The season in which you plan to wed can affect costs. Peak wedding season (usually late spring to early fall) can be more expensive due to high demand.
Services and Extras: Costs can rise depending on the professionals you hire (photographers, florists, musicians, etc.), the menu you choose, and any additional activities or extras planned for your guests.
Remember, a higher price doesn't always guarantee a better experience. It's about creating an event that reflects your personal style and taste. With careful planning and budgeting, your wedding in Tuscany can be a magical experience that offers excellent value for money.
Discover the Perfect Venue: Celebrating Love in the Heart of Tuscany
A crucial factor in crafting the perfect wedding experience is the choice of venue. Tuscany, with its diverse landscapes and architectural styles, offers a plethora of options. Whether it's a rustic farmhouse, a grand villa, or a serene vineyard, each venue provides a unique ambiance to your special day. Let's explore some top-rated venues in Tuscany, Florence, Lucca, and Siena that could be the ideal backdrop for your nuptial celebrations.
Tuscany Wedding Venues: Tuscany is home to an array of dreamy venues. Imagine saying 'I do' in a medieval castle overlooking endless vineyards or at an authentic Tuscan farmhouse surrounded by olive groves. For a more regal setting, consider the grand villas boasting panoramic views of the region's stunning landscapes.
Florence Wedding Venues: In Florence, the cradle of the Renaissance, you'll find a plethora of palazzos and villas that exude elegance and historical charm. Palazzo Vecchio offers a splendid setting in the heart of Florence, while Villa di Maiano is renowned for its sprawling gardens and stunning views of the city.
Lucca Wedding Venues: Lucca, a gem of Tuscany, is known for its preserved city walls and charming medieval core. Venues like Villa Grabau and Palazzo Pfanner stand out for their beautiful gardens and aristocratic allure.
Siena Wedding Venues: The medieval city of Siena, known for its picturesque squares and Gothic architecture, also hosts several beautiful venues. Borgo Stomennano and Villa Catignano are two of the many venues that provide a delightful blend of history, art, and nature.
The appeal of a villa or vineyard wedding in Tuscany is immense. The fusion of rustic charm, spectacular views, and tranquil ambiance makes venues like Villa Mangiacane or Castello di Meleto unforgettable. With vineyards offering a scenic backdrop, your wedding photos will capture the unique magic of a Tuscany vineyard wedding.
Remember, the best wedding venues in Tuscany are those that resonate with your style and vision for your special day. Whether you dream of a grand celebration or an intimate gathering, Tuscany's diverse array of venues ensures the perfect setting for your story of love to unfold.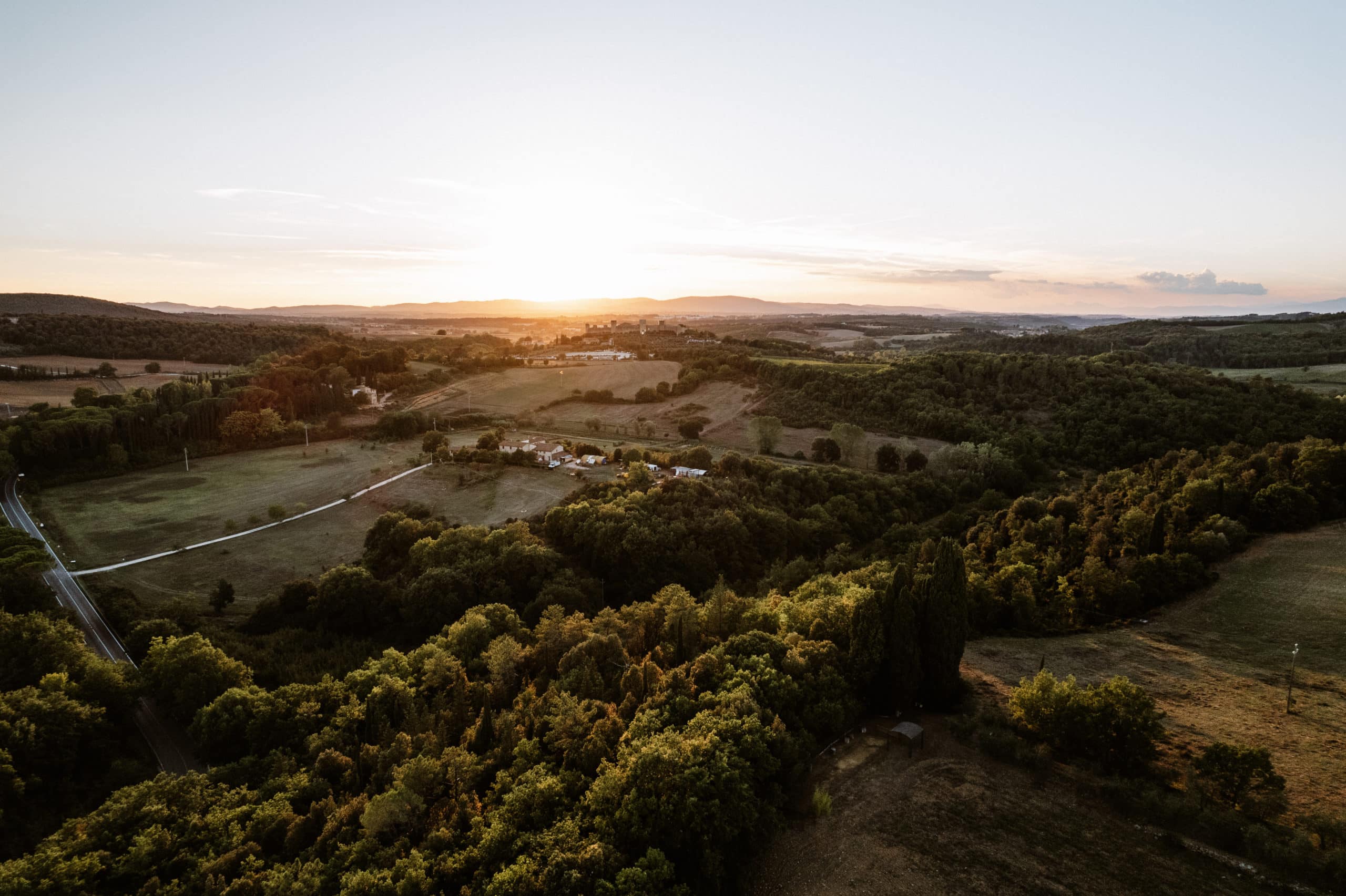 Navigating Wedding Planning in Tuscany: A Pathway to Your Dream Wedding
Embarking on your journey to a Tuscany wedding can be a whirlwind of excitement and anticipation. It's a region with boundless opportunities for crafting an unforgettable event, but how does one have a wedding in Tuscany? Can you actually get married in Tuscany? And how crucial is the role of a wedding planner? Let's explore these questions.
How to Have a Wedding in Tuscany?
Planning a wedding in Tuscany involves several steps:
Select Your Perfect Venue: As discussed, Tuscany offers a range of incredible venues. Whether you dream of a grand villa, a charming farmhouse, or a vineyard setting, your choice will shape the rest of your wedding.
Pick the Right Time: Seasonality can impact availability and cost, so choose your wedding date carefully.
Understand Legal Requirements: If you're planning a legally binding ceremony, ensure you understand the necessary paperwork and legal requirements, which may vary depending on your country of residence.
Can You Get Married in Tuscany?
Absolutely! Tuscany hosts countless weddings every year for both residents and international visitors. It's a beloved location for destination weddings. Both civil and religious ceremonies can be held, and symbolic ceremonies are also popular.
The Role of a Wedding Planner and the Benefits of Hiring One
Organizing a wedding from a distance can be a complex task. This is where the expertise of a wedding planner comes in. A professional planner with local knowledge can be invaluable in helping you navigate the logistics and specifics of arranging a wedding in Tuscany.
The benefits of hiring a wedding planner include:
Local Knowledge: They have insights into the best local suppliers, understand the nuances of the region, and can help with language barriers.
Time-saving: Wedding planners can take on time-consuming tasks, allowing you to enjoy the process without feeling overwhelmed.
Stress Reduction: A wedding planner can handle any unexpected issues, ensuring your special day runs smoothly.
Budget Management: A good planner will help you make the most of your budget, advising on where to save and where to splurge.
Coordination: They ensure all elements of your wedding come together seamlessly, from venue setup to coordinating suppliers on the day.
A wedding planner can turn your Tuscany wedding dreams into reality, making the process enjoyable rather than stressful. With their guidance, your journey to 'I do' in Tuscany will be as magical as the region itself.
Planning for the Perfect Season: When to Say 'I Do' in Tuscany
Tuscany, with its Mediterranean climate, offers a warm and pleasant environment for most of the year. However, the region has distinct seasons, each with its unique charm and challenges. So, what is the best month for a Tuscany wedding? Let's delve into the details.
What is the Best Month for a Tuscany Wedding?
May through October is generally considered the best month for a wedding in Tuscany. During these months, the region basks in warm weather, the landscapes are at their most vibrant, and the risk of rain is lower.
Spring (April to June): Spring in Tuscany is a time of renewal, with vibrant colors and pleasant temperatures. It's an excellent time for a wedding, especially if you dream of a garden ceremony amidst blooming flowers.
Summer (July and August): Summer in Tuscany is typically hot and sunny, perfect for outdoor celebrations. However, it's also the busiest season, so early booking is advisable.
Autumn (September and October): Fall is a beautiful season in Tuscany, with milder temperatures and changing colors. It's also the harvest season, adding a unique charm to vineyard weddings.
What is the Rainiest Month in Tuscany?
November is traditionally the rainiest month in Tuscany, which is worth considering when planning an outdoor event.
What is the High Season for Tuscany?
The high season in Tuscany is usually from late spring (May) through early fall (October). This period sees the most tourists due to the excellent weather and numerous local festivals.
What is the Coldest Month in Tuscany?
January is typically the coldest month in Tuscany. While winter weddings can have their own charm, keep in mind that some venues may not operate during this season.
Is Tuscany Better in Spring or Fall?
Both seasons offer unique advantages. Spring is a time of blossoming flowers and perfect temperatures, while fall offers stunning color changes and a cozy atmosphere. Your choice may depend on the aesthetic you prefer for your wedding and the type of outdoor activities you want to include.
In conclusion, choosing the perfect season for your Tuscany wedding depends on your personal preferences and wedding vision. Whatever the season, Tuscany's charm remains undiminished, offering a perfect backdrop for your special day.
Making the Most of Your Tuscany Experience: More Than Just a Wedding Destination
Your wedding celebration presents an excellent opportunity for you and your guests to fully immerse yourselves in the wonders of Tuscany. From exploring medieval towns to wine tasting in world-renowned vineyards, there's plenty to experience. So, how many days do you need in Tuscany to enjoy all it has to offer?
How Many Days Do I Need in Tuscany?
While the length of your stay will ultimately depend on your schedule and desires, a week is generally recommended to appreciate Tuscany truly. This allows enough time to settle in, acclimatize, and enjoy the various experiences the region provides without feeling rushed. Remember, this is not just about the wedding day—it's about creating unforgettable memories around your special event.
Activities and Sights for Wedding Guests and Couples
Tuscany is brimming with activities and attractions, offering something for everyone. Here are a few suggestions:
Cultural Tours: Explore historic cities like Florence, Siena, and Lucca, each boasting an array of architectural wonders, museums, and art galleries.
Wine Tours: Tuscany is synonymous with wine. Organize a group wine tour to regions like Chianti or Montalcino for a taste of some of the world's most acclaimed wines.
Culinary Experiences: Try a Tuscan cooking class or enjoy a truffle hunting expedition followed by a truffle-themed meal.
Outdoor Activities: For nature lovers, Tuscany offers stunning landscapes to explore through hiking, cycling, or horseback riding.
Spa and Wellness: Tuscany is also known for its thermal baths. A day of relaxation and pampering at a spa, such as those in Montecatini or Saturnia, can be a wonderful experience.
Shopping: Tuscany offers a variety of shopping experiences, from high-end Italian designers in Florence to local markets selling artisan goods and local produce.
By planning some additional activities, you'll offer your guests a rich, immersive Tuscany experience. It will also allow you and your partner to extend your wedding celebration into a romantic and exciting honeymoon. Remember, Tuscany is not just a wedding destination—it's a gateway to unique, enchanting experiences.
Tying the Knot in an Intimate Ceremony: The Allure of a Tuscany Elopement
In recent years, elopements have gained popularity among couples seeking a more intimate, personal, and stress-free wedding experience. Tuscany, with its dreamy landscapes and romantic charm, provides a perfect setting for such a deeply personal celebration. Let's delve into the allure of a Tuscany elopement.
An elopement in Tuscany offers a chance to exchange vows in an idyllic setting, just the two of you or with a handful of your closest loved ones. It strips away the 'production' of a traditional wedding, allowing the focus to be solely on your union and love for each other.
Breathtaking Scenery: Imagine saying 'I do' against the backdrop of a stunning Tuscan sunset, amidst blooming sunflower fields, or in a secluded corner of a historic vineyard. Tuscany offers an array of intimate, picturesque settings that will make your elopement unforgettable.
Deeply Personal and Intimate: An elopement removes the pressures and expectations often associated with large weddings. The day is purely about the couple, enabling you to truly be present at the moment and focus on each other.
Flexibility and Freedom: Elopements are often less constrained by rules and traditions. You can design a ceremony that genuinely reflects your relationship and values.
Ease and Less Stress: Planning an elopement can be much simpler and less stressful than organizing a large wedding. This leaves more time to enjoy the engagement period and the romantic adventure that an elopement can be.
Budget-Friendly: An elopement can often be more cost-effective, allowing you to invest more in your experience or allocate funds to other areas such as a luxurious honeymoon in Tuscany or a dream home.
Tuscany is a treasure trove of beautiful experiences, which can be further enhanced when you choose to elope. From private villas to rustic farmhouses and world-class vineyards, there are endless locations to tie the knot in an intimate and unforgettable way. Tuscany elopement allows you to embark on the journey of marriage in the most magical and meaningful way.
Conclusion: Creating Your Fairytale with a Tuscany Wedding
As we journey through the intricacies of planning a wedding, it's clear that Tuscany offers more than just a destination—it offers an experience, an unforgettable foray into a world steeped in history, beauty, and romance. A Tuscany Italy wedding is not just about a single day; it's about the mesmerizing stories that unfold, the shared experiences with loved ones, and the beautiful beginning of a new chapter in an extraordinary setting.
From the initial stages of decoding the costs, navigating through the planning, discovering the perfect venue, and understanding the seasons, every step leading up to your big day contributes to your unique love story. Whether you're dreaming of a grand affair in a Renaissance-era villa, a charming rustic wedding in a vineyard, or an intimate elopement overlooking the rolling Tuscan hills, Tuscany caters to every whim and fancy.
Beyond the wedding day, Tuscany seduces you with its cultural, gastronomic, and natural delights. The region invites you to linger, explore, and fall in love with its charm, offering a tapestry of unforgettable experiences.
In conclusion, a Tuscany wedding is more than a celebration—it's an immersion into a world that thrives on love, beauty, and the art of good living. It's where wedding dreams are not just made but lived, where every moment is a testament to love's magic. As you say your vows amidst the enchanting Tuscan landscape, remember—you're not just getting married, you're becoming a part of Tuscany's timeless love story.