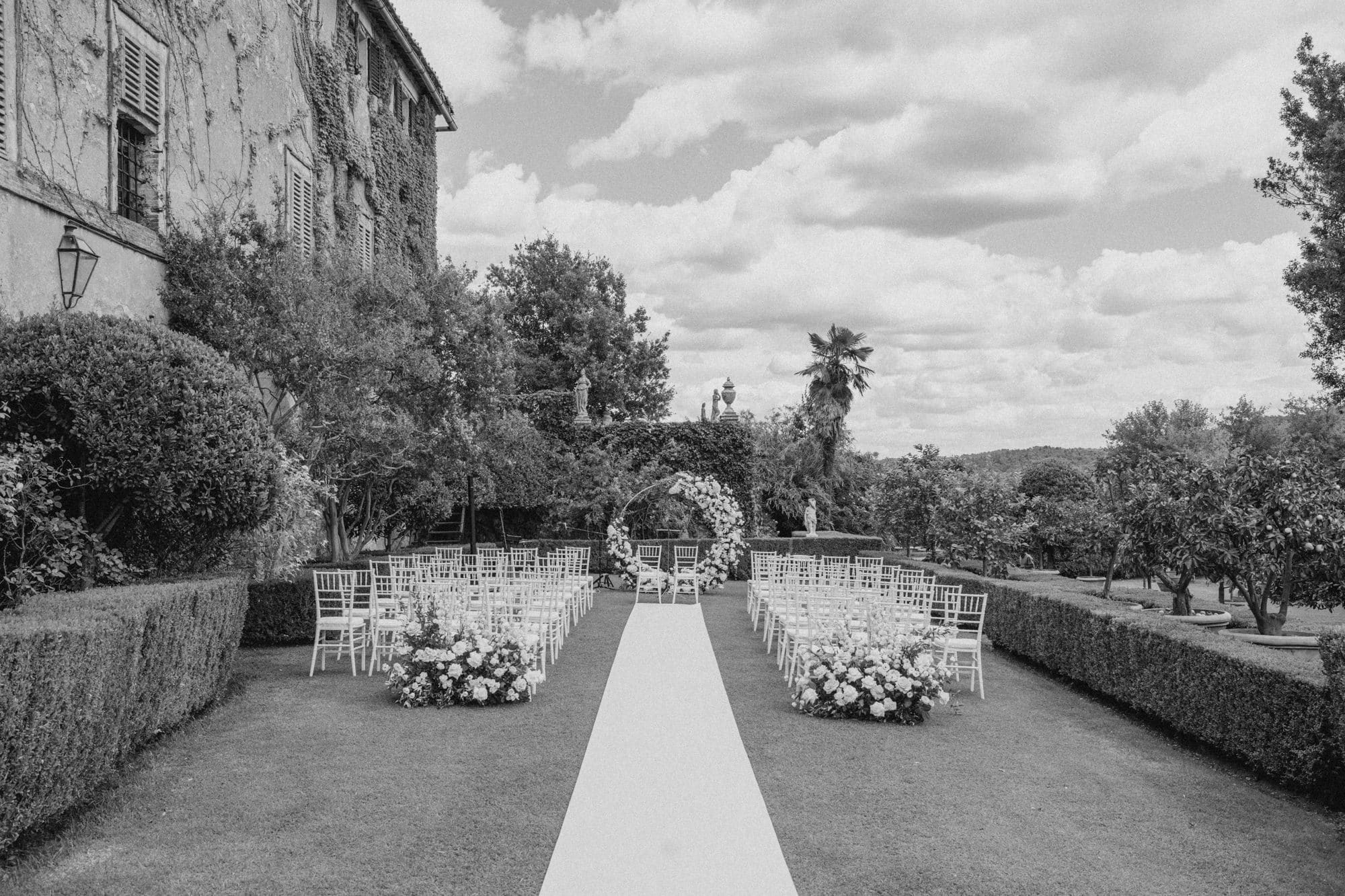 Introduction- The Allure of a Tuscan Wedding
Steeped in a wealth of history, adorned with picturesque landscapes, and characterized by its unique blend of culture and charm, Tuscany is one of the most sought-after destinations for couples seeking a magical setting to say, "I do." Tuscany wedding venues offer a diverse range of options, from historic churches and majestic castles to verdant vineyards and rustic farmhouses, each presenting an unparalleled backdrop to a love story's new chapter.
Getting married in Tuscany is not just about the event itself; it is about immersing oneself in an authentic Italian experience. This region, known for its Renaissance art, historic cities, and world-renowned wine, offers a complete sensory journey, creating an unforgettable atmosphere for a wedding. Tuscany's rolling hills, cypress-lined avenues, and golden sunsets are the perfect ingredients for a wedding album that looks straight out of a fairytale.
Choosing Tuscany as your wedding destination means gifting yourself and your guests an experience draped in romance, luxury, and timeless Italian elegance. As we delve into the allure of a Tuscan wedding, you will discover why Tuscany has become a hotspot for couples to begin their wedded bliss. From Florence to Siena and Lucca, let's explore the charm, the cost, and the considerations of hosting your dream wedding in the idyllic setting of Tuscany.
The Appeal of Tuscany Wedding Venues
The allure of Tuscany extends far beyond its natural beauty. It's a region that seamlessly blends old-world charm with modern luxury, making it a dream come true for couples seeking the best wedding venues in Italy.
One of the most captivating aspects of Tuscany is its abundant variety of stunning wedding locations. From rustic to royal, these venues promise a unique experience that caters to a wide range of tastes. Tuscany, with its sun-drenched vineyards, imposing castles, elegant villas, and enchanting gardens, provides a perfect setting for each unique love story.
Let's embark on a journey to discover some of the most coveted places to get married in Tuscany:
Vineyard Venues: Tuscany is world-renowned for its wines, and its vineyards offer a truly authentic Tuscan experience. Here, couples can exchange vows surrounded by lush grapevines, under the warm Tuscan sun. Post-ceremony, guests can indulge in wine-tasting sessions, presenting a unique blend of celebration and local tradition.
Castle Venues: For those seeking a touch of grandeur, Tuscany's castles offer a fairytale setting. These historical structures, some dating back to the Middle Ages, provide an unbeatable combination of romance, history, and majestic views over the Tuscan landscape.
Villa Venues: Luxurious, exclusive, and bathed in elegance, Tuscan villas offer a refined backdrop for a wedding. Many villas feature extensive gardens, terraces with breathtaking views, and unique architectural details, offering an exquisite taste of the Italian dolce vita.
City Venues: Cities like Florence, Siena, and Lucca are home to some of the finest and best-preserved examples of Italian architecture and art. Getting married in one of these cities means surrounding yourself with rich history, stunning architecture, and the vibrant life of an Italian city.
Choosing Tuscany as your wedding location presents a multitude of opportunities to tie the knot in style. Each venue is not just a backdrop for the ceremony but a cornerstone in the memories that will be cherished for a lifetime. In the heart of Italy, Tuscany continues to reign as a premier choice for unforgettable weddings.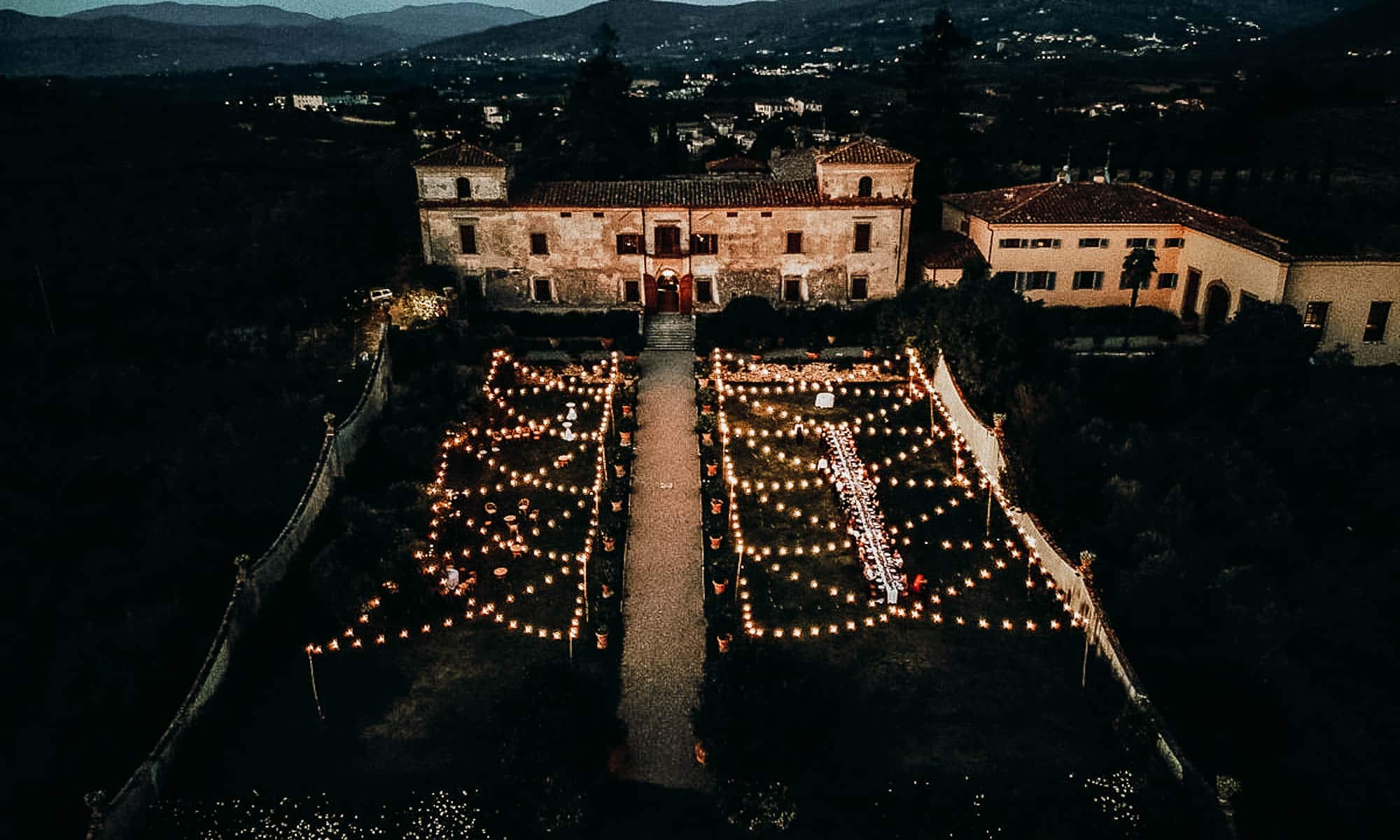 Navigating the Costs for Tuscany Wedding Venues
When it comes to planning a wedding in Italy, understanding the costs involved is vital. The allure of Italy, particularly Tuscany, might lead one to believe that a wedding here could be exorbitantly priced, but the reality may surprise you.
The average cost of a wedding in Italy varies significantly depending on the location, the size of the wedding, and the chosen venue. Compared to other popular wedding destinations in Europe, Italy, surprisingly, can offer a more cost-effective option. Is it cheaper to get married in Italy? It might be, depending on where and when you decide to tie the knot.
Turning our attention to the luxury wedding market in Italy, one must prepare for a higher price point. Luxury weddings in Italy involve not just the most exclusive venues, but also world-class catering, famous live bands or DJs, stunning floral arrangements, and high-end photography and videography services. As a result, the cost of a luxury wedding in Italy can range significantly, but the memories created at such events are indeed priceless.
However, don't let the high-end price tags deter you. Tuscany wedding packages offer a more economical yet equally enchanting alternative. These packages often include venue booking, catering, decor, music, and photography services. The bundled services not only make the planning process smoother but also provide better value for money.
The timing and region of your wedding also greatly influence the overall cost. The peak wedding season in Italy runs from May to October, with prices being the highest. Opting for an off-season wedding could make a big difference in the budget. In terms of regions, areas in Southern Italy tend to be less expensive than their Northern counterparts. However, Tuscany, despite being in the north, offers a wide range of options catering to different budgets.
So, what is the cheapest month and region to get married in Italy? The off-peak winter months, such as January and February, tend to be less costly. As for the region, areas like Puglia in the south can offer more affordable options, but remember, each region has its unique charm.
In summary, whether you dream of a lavish celebration or a more intimate ceremony, understanding the financial aspects will ensure your Italian wedding is as enjoyable as it is memorable.
Planning Your Wedding in Tuscany
As enchanting as a wedding in Tuscany sounds, it's only natural to wonder about the complexity of planning such an event, especially from abroad. So, how hard is it to plan a wedding in Italy? In truth, it requires careful organization and a bit of local knowledge. But with a clear understanding of the process and possibly the help of a wedding planner, it can be a manageable and enjoyable journey.
To begin with, it's crucial to understand the timeline for planning a wedding in Italy. Usually, a period of six to eighteen months is advisable, providing ample time for all preparations. However, if you have a specific venue in mind, such as one of the best wedding venues in Tuscany, booking two years in advance may be necessary due to high demand.
Following is a simplified step-by-step guide on how to have a wedding in Tuscany:
Choose the Date and Venue: Consider factors like weather, availability of the venue, and convenience for guests. Booking well in advance is recommended.
Budget Planning: Outline a budget considering the venue, accommodation, catering, decoration, photography, music, and additional services.
Hire a Wedding Planner (Optional): A wedding planner can be invaluable, simplifying communication with vendors, aiding with paperwork, and providing insights about local customs and best practices.
Legalities: Non-resident foreigners can get married in Italy. However, the paperwork can be time-consuming. Ensure you're clear about the required documents and the procedure involved.
Send Invitations: Inform your guests well in advance, allowing them time to prepare for their travel.
Plan the Menu: Italy is famed for its cuisine, and Tuscany is no exception. A Tuscan wedding meal can be a highlight of your wedding.
Schedule Site Visits: If possible, visit the venue and meet with vendors before the wedding to ensure everything aligns with your vision.
Finalize Details: A few weeks before the wedding, confirm all the details, from guest arrivals to wedding day timelines.
And finally, can you get married in Italy as a tourist? Yes, Italy permits foreigners to get married within its borders. However, certain paperwork is required, including a declaration obtained from your home country's embassy or consulate in Italy, verifying that there's no obstacle to your marriage. It's recommended to check the latest requirements as they can change.
Planning your wedding in Tuscany can indeed be a beautiful journey filled with excitement and anticipation, leading you to one of the most memorable days of your life.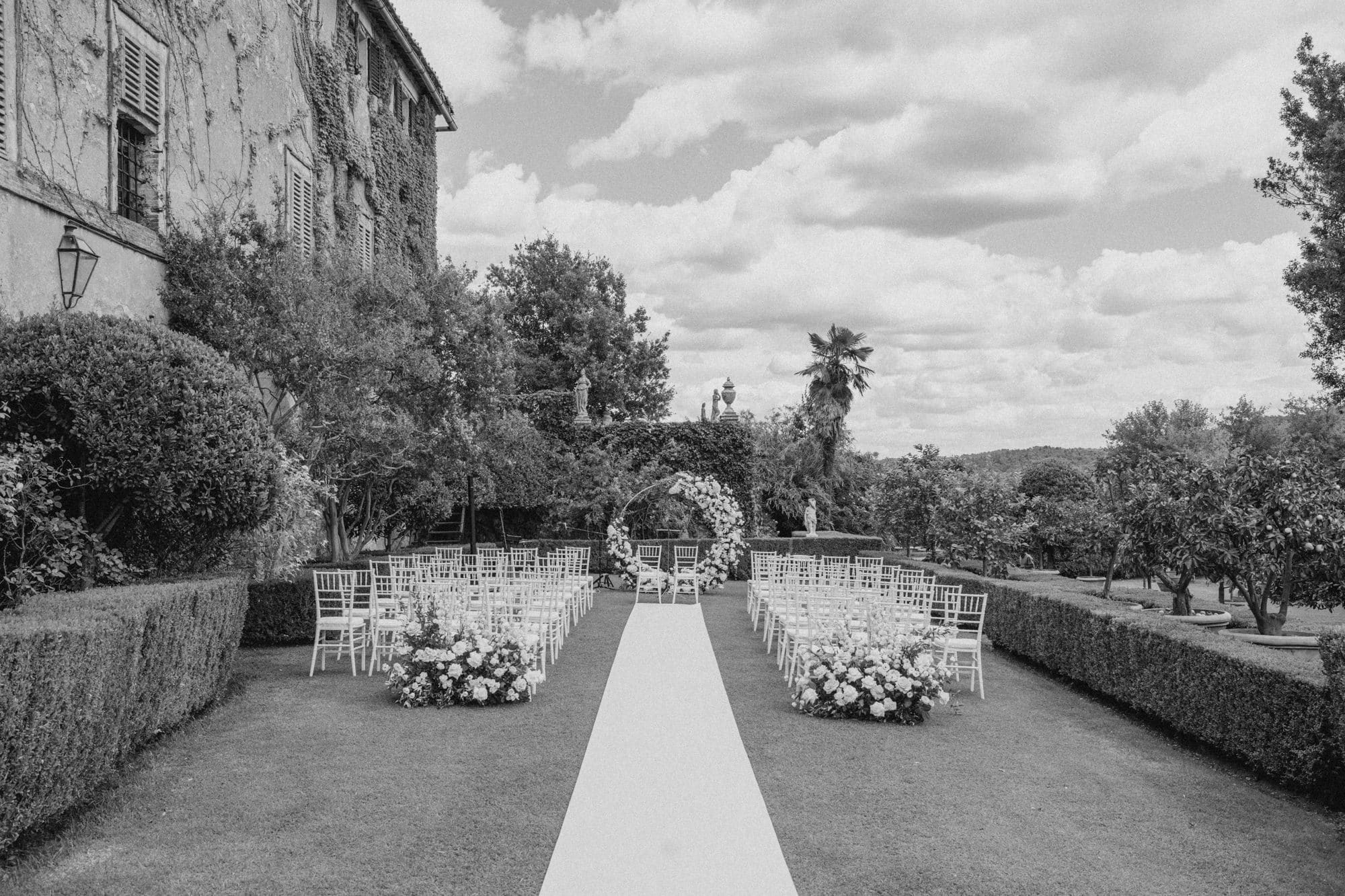 Spotlight on Tuscany Wedding Venues
In the radiant heart of Italy, Tuscany boasts some of the most stunning wedding venues you could dream of, each seeping with charm and offering an individual perspective of the region's beauty. Let's spotlight a few key Tuscan cities and their unique venue offerings.
Florence Wedding Venues: Known as the "Cradle of the Renaissance," Florence is a city brimming with culture, art, and exquisite architecture. Florence wedding venues range from majestic palaces and lush gardens to modern loft spaces. Think of venues like Villa Gamberaia, renowned for its magnificent gardens and panoramic views, or Palazzo Borghese, a palace boasting grand ballrooms.
Siena Wedding Venues: Siena, famous for its medieval cityscape and its horse race 'Il Palio,' offers venues steeped in history. Siena wedding venues include rustic farmhouses, beautiful monasteries, and even the town hall, Palazzo Pubblico, which houses magnificent frescoes.
Lucca Wedding Venues: Lucca, a city famed for its well-preserved Renaissance walls, provides a stunning backdrop for weddings. Lucca wedding venues are varied, ranging from elegant villas to ancient churches and charming farmhouses.
One notable venue worth highlighting is Borgo Stomenano. Nestled amidst olive groves and vineyards, Borgo Stomenano is a historic residence that exudes elegance and tranquillity. With exclusive amenities, exquisite dining options, and stunning views, this venue embodies the charm of a Tuscan wedding.
Shifting our focus to Tuscany villa wedding venues, these locales offer a unique blend of luxury, privacy, and a homely atmosphere. Wedding villas in Florence, for example, are renowned for their stunning architecture, manicured gardens, and unparalleled views over the city and countryside. These properties, whether grand or rustic, provide an intimate setting for a wedding ceremony and often have accommodation options that make it convenient for guests as well.
Now, you might wonder, how to choose a wedding venue in Italy, particularly in a region as rich in options as Tuscany. Here are some factors to consider:
Budget: Understand what is included in the venue price. Are there any additional costs for catering, decor, or music?
Style and Vision: Make sure the venue aligns with your dream wedding. Is it formal, informal, traditional, or modern?
Size: Ensure the venue can comfortably accommodate your guest list.
Availability: Is the venue available on your preferred date? If not, do they have alternate dates close to your original choice?
Services: Does the venue offer any additional services like planning, decoration, or catering?
Location: Consider the accessibility of the venue for your guests, and its proximity to accommodation options.
Choosing the right venue is a crucial part of planning your wedding. Take the time to explore the wide variety of Tuscany wedding venues available, and you're sure to find the perfect place to celebrate your special day.
The Best Time for a Tuscan Wedding
One of the most critical aspects of planning a wedding is selecting the right time of year, especially when your wedding destination has a distinct seasonal climate like Tuscany.
So, what is the best month for a Tuscan wedding? Although Tuscany offers its charm throughout the year, the most popular months for weddings are from late spring to early autumn, typically between May and October. These months provide the most reliable weather, with long sunny days, clear skies, and comfortable temperatures - perfect conditions for an outdoor ceremony or reception.
In particular, June and September are considered peak wedding seasons due to their nearly perfect weather. These months offer mild temperatures, generally ranging between 20 to 28 degrees Celsius, and minimal rainfall, making them ideal for any type of wedding event.
However, if you're considering an off-season wedding, the winter months offer their unique charm. Tuscany in the winter exudes a romantic ambiance, with cooler temperatures, crisp air, and venues adorned with fireplaces creating a warm, cozy atmosphere.
As for the weather, it's essential to know the rainiest month in Tuscany. November typically sees the highest average rainfall in the region. Although the Tuscan landscape takes on a lush, green hue with the rain, it's something to consider when planning an outdoor event.
While weather is a crucial factor, it's also important to think about the type of experience you and your guests want. Each season offers different scenery, flavors, and experiences in Tuscany. Whether you want the warm sunshine of a summer wedding, the vibrant colors of a fall celebration, or the cozy ambiance of a winter ceremony, Tuscany can deliver a memorable event.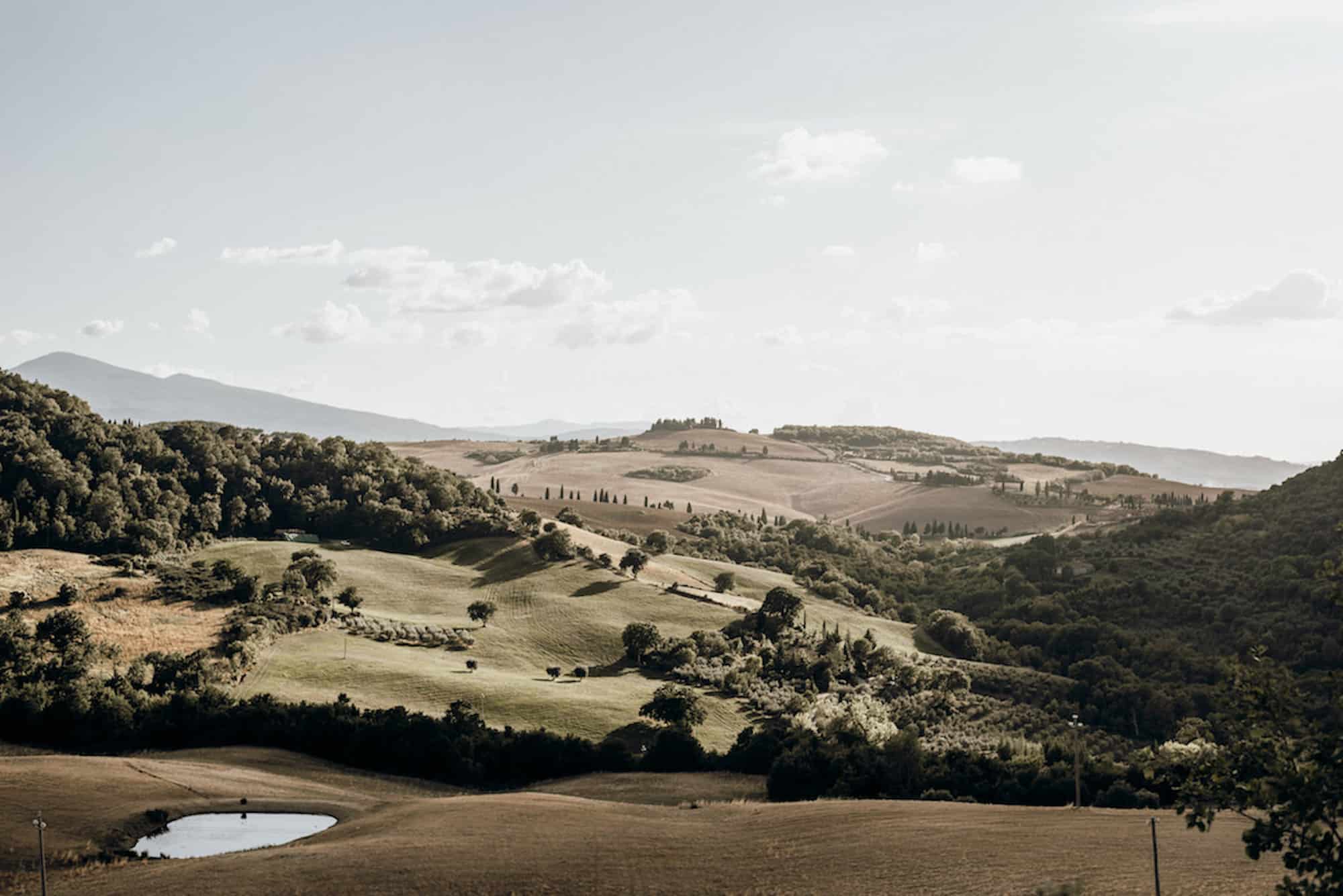 Conclusion - The best Tuscany Wedding Venues
Tuscany, with its rolling hills, historical cities, exceptional cuisine, and beautiful venues, holds an undeniable charm as a wedding destination. A wedding here is not just an event; it's a unique experience enveloped in the region's rich history, culture, and breathtaking beauty.
Planning a Tuscan wedding, while it may seem daunting at first, can be an exciting and rewarding journey. From deciding on the perfect date and understanding the various costs involved to navigating the legalities of getting married in Italy, there's much to consider. However, with careful planning, and potentially the assistance of a local wedding planner, the process can become an enjoyable part of your wedding story.
Choosing the right venue is a pivotal decision in this journey. Whether it's a grand palace in Florence, a charming farmhouse in Siena, or a luxury villa nestled amidst olive groves and vineyards, Tuscany offers a variety of venues to suit different tastes and budgets. Remember to consider factors like the size, availability, location, and additional services offered by the venue when making your choice.
When it comes to the best time for a wedding in Tuscany, while the summer months offer beautiful weather and vibrant landscapes, each season carries its unique charm. Ultimately, the right time would be when Tuscany's beauty aligns with your wedding vision.
In conclusion, a wedding in Tuscany provides an unforgettable start to your marital journey. It's a celebration of love amidst a backdrop of stunning landscapes, timeless architecture, and the vibrant life of one of Italy's most enchanting regions. Whether it's a luxurious affair or an intimate ceremony, a wedding in Tuscany is bound to leave an indelible mark on your hearts and create memories that you and your guests will cherish for a lifetime.